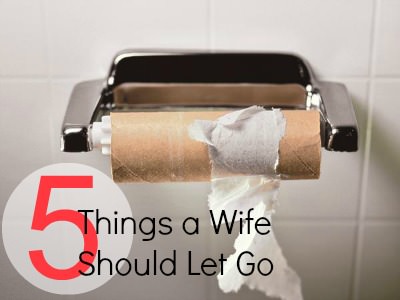 When Eric and I were first married, we would have a lot of little arguments over house chores and responsibilities.
And at the time, I would bring up everything, because I kept thinking "oh my gosh, am I going to have to live with dirty socks on the floor- dirty plates on the counter- <insert obnoxious habit here> for the rest of my life???"
And because I couldn't fathom living a life where I would have to pick up the same dirty socks over and over and over again, we would have a real argument about it every single time there was a sock on the floor.
I think there are lots of secrets to a happy marriage, but perhaps one of the biggest secrets is being able to figure out when you should have the argument and when you should let it go.
In other words—is this the hill you want to die on?
After four years of marriage, I've realized there are just some things in life that a husband will never do. And instead of driving yourself crazy, it's best to just let it go.
Here is my list of five things a husband will never do and the wife should just let go:
Throw Away an Empty Shampoo Bottle
It makes no sense, but a husband will never throw away an empty shampoo bottle.
I can seriously open the shower door and throw away the bottle while I'm in the shower but stillthis is too hard for my husband to do.
Sometimes he will bring in a new shampoo bottle if the old one runs out, but he still won't throw away the old shampoo bottle.
It's like he thinks it's bad juju or something.
There have been times where I have silently protested and will actually bring in a new shampoo bottle into the shower with me, and then take it out when I'm done, just to see what he does when he's in the shower without shampoo.
But he will just use other stuff like body wash, or facewash, or conditioner, or he'll even put some water in the empty shampoo bottle and swish it around for some suds.
I give up.
Replace the Toilet Paper Roll
Not once, not ever, not a single freakin' time in the history of our marriage has my husband ever replaced the empty toilet paper roll.
The new toilet paper roll will just sit right above the empty toilet paper roll—as if it's too much work to manually replace the roll. It's not like you could actually replace it while you're…I dunno…sitting on the toilet?
Do a Chore Without Telling Me About It
Before I leave for work at 7:30 in the morning, I make the bed, walk the dog, empty the dishwasher, put dirty dishes in the dishwasher, clean up the kitchen, re-arrange the pillows on the couch and fold any blankets we may have used the night before. If I can squeeze it in, I might put in a load of laundry in the wash as well.
The night before, I will remind Eric twice to take out the trash. When he forgets to do it in the morning before he leaves for work, I will remind him again to take out the trash by sending him a photo of the loaded trash can as a visual reminder.
When he gets home from work and after three reminders, he will finally take out the trash and tell me all about it when I get home from work.
He will then tell me how he moved a sock too, and put his plate in the sink, and let the dog in the back yard so he could go to the restroom.
Lest you think I'm kidding, here is a video Eric sent me about cleaning up my sandals around the house:
Go to the Grocery Store and ONLY Buy Items on the List
I've been trying to give Eric more of the grocery store buying responsibilities. But I know that if I send Eric to the store, I'll end up with about $50 worth of useless junk food groceries. Or he may come back with a new $200 tool for his workshop because he stopped at Home Depot on his way back from the grocery store.
I have to decide: is it more important to save money or is it more convenient to still let Eric grocery shop?
Buy a Gift more than 24 hours in Advance
Eric is not big on gift-buying. I've learned to accept this though and instead just buy my own presents.
I think the trick to finding happiness is finding a solution that works for your relationship—and realizing that there are some things you will just need to let go.