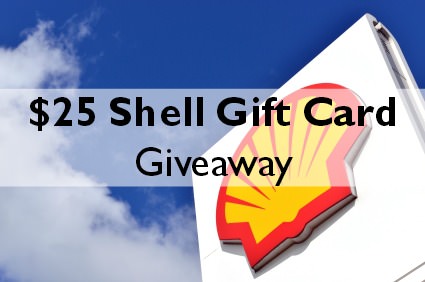 This post was brought to you by Shell. 
Who wants some free gas this summer?
I don't know about you but gas prices around here go up like crazy during the summer time. So any little bit of savings helps.
Congrats to Lisa! Lisa, I have emailed you to claim your prize.
Fuel Rewards Network program
The Fuel Rewards Network™ program is a FREE loyalty program where you can earn rewards on everyday purchases and offers you real savings at participating Shell stations.
a free savings program available at your local Shell station that lets you earn rewards on everyday purchases. The best part of this program is that it is super easy to earn rewards.
Earn 5¢/gal for every $50 spent at more than 700 brand name online merchants
Earn 10¢/gal for every $50 spent at more than 10,000 participating dining locations.
You can receive an additional 5c/gal every time you refer a friend or family member to join the Fuel Rewards Network program
When it's time to pump gas, insert your FRN Card first to lower the price and take advantage of the savings you've earned. See? Super easy.
What makes it even easier is that you don't need to show the FRN Card when making purchases at participating dining locations. By registering your credit and debit cards that you would normally use to make a purchase, the FRN Card keeps track of the rewards you earn.
Simply earn Fuel Rewards® savings when you purchase the items you normally buy, like groceries, clothing and household goods and redeem them for cents per gallon savings at participating Shell stations.
For a limited time, new members of the Fuels Rewards Network program can get a 25c/gal sign-up bonus when they join the program
To qualify, you must purchase at least 8 gallons of fuel on your first fill-up using your Fuel Rewards Network Card, while enjoying at least 3c/gal savings. Then, the 25c/gal will be credited to your account for your next fill up.
Signing up is simple!
You can request your free Fuel Rewards Network Card online or pick one up at any participating Shell station and activate it online, OR text "Rewards" to Shell 1 (743551) to join.
$25 Shell Gift Card Giveaway
Use the Shell Gift Card for gas or in-store purchases.
To enter, simply sign-up for the FREE Fuel Rewards Network program here and leave a comment at the bottom of this post saying you did!
That's it! A winner will be chosen at random on Wednesday, August 20. An email will be sent to the winner and they will have 48 hours to respond before another winner is chosen. Open to U.S. and Canadian residents only.
Don't forget to enter my $25 Whole Foods Gift Cards giveaway–FIVE winners will be chosen next week!
This post was brought to you by Shell.