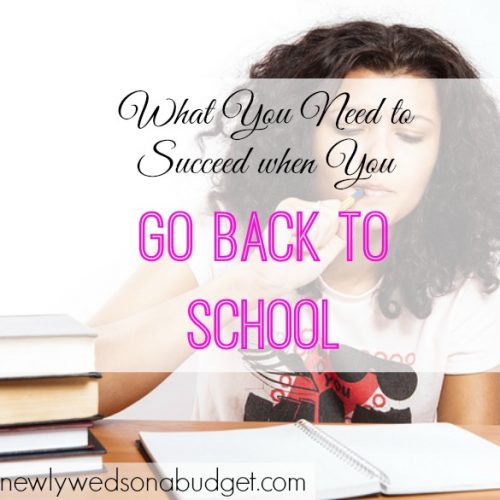 Finishing my master's program was a time-intensive and challenging ordeal. As an early thirty-something, I had no desire to go back to school and I'm still sort of dumbfounded when I hear about colleagues of mine who go to school "for fun."
School wasn't fun for me. At all.
I thought I had left behind all the studying, testing, and paper writing once I finished undergrad. But graduate school was an entirely different beast. Instead of just worrying about school and socializing with friends, I now had to juggle a full-time job, my husband, and everything that comes along with running a household. Thank goodness we hadn't added kids to the mix yet!
My free time no longer just belonged to me, but it belonged to my professors. Weekends were now planned around how much homework I had to do and how many papers I had to finish. I remember one Sunday when I had a presentation due the next day and Eric wanted to visit his parents for brunch and promised we would be home by the early afternoon. Around 6 pm, I finally told him we had to leave because I had to finish my presentation. I was so stressed and couldn't even enjoy my time away from school just thinking about that presentation looming over my head.
The bottom line: Going back to school as an adult is hard. But there are things you can do to help ease the transition.
Plan ahead: Scheduling your time has never been more important. You really need to schedule time to do your homework and finish your assignments, but it's also important to allow yourself time to hang out with your family. Leave work at work so that you have enough time at home to give your attention to your family, household responsibilities, and school work.
Set boundaries: There may be many cases where you're going to have to pass a fun invite somewhere because you need to finish an assignment. Set boundaries with your friends and family so that they know your studies will be apriority for the time being. It isn't permanent and you can still hang out but probably not at the level you were before.
Get help at school: Sometimes it can be really hard to transition from years of working and then going back to school. It's hard to get yourself into that student mentality. Ask for help when you need it. Hire a tutor if needed, create a study group, or visit your professor during office hours. Don't be afraid to reach out. When it was time to do my thesis papers, I had to buckle down and had several colleagues read over my papers to look for errors and offer their suggestions.
Get help at home: Your partner can also play a really big role in your success with school by helping out around the home more. I know that when I went back to school, my husband had to take on a lot more of my responsibilities at home. Don't be afraid to ask your family members to pitch in and help your during this time.
Making the decision to go back to school should never be taken lightly. You can help make the transition easier by setting yourself up for success with these tips.