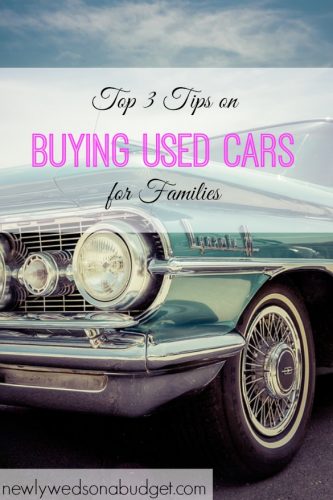 With a little one on the way, my husband and I are planning on buying a used car to become our main family vehicle. We both currently have two-door cars, which will make any baby-related travel an inconvenience.
While we hope to put a sizeable down payment for the car (hopefully $10K), I would prefer to keep our debt to a minimum so we are only looking at cars within the $20-25K range.
I feel that it is a real struggle for us to buy less car than we can afford just as much as it is a struggle for people who buy more car than they can afford. We can afford a better car, but we choose not to because we would rather use that money toward saving, investing, house repairs, annual family vacations and so on and so forth.
As much as we know we are making the right decision for our family, it is still hard to see others with their shiny new cars, traveling in style. But at least I can say we will not be struggling with a $500+ a month car payment!
Now that we are actively searching for a used car, here are some tips on buying used cars.
Be Flexible
In our search, we've learned to be flexible. Ideally, we'd like something between 3-5 years old with less than 50K miles. However, by expanding our search to include vehicles with less than 75K miles, we find that we get a lot more hits and something more in our price range. Also being open to different vehicles and not having your heart set on a particular car. At the beginning, I was set on getting a Toyota Highlander, but have since started considering other vehicles that would be great in the interim.
Search Around
One of the main things we have on our side in our search for a used car is time. We are giving ourselves plenty of time to find a vehicle that meets all our needs. Since we really don't need the car until at least October, we have been diligently searching for a used cars for sale that will fit all our criteria rather than have to rush into buying a used car out of necessity.
Get Mechanic Checked
You may think that buying a certified pre-owned car may be better than going through a private seller, but you could save thousands in markups from the dealership by going through a private party. To give yourself some reassurance, always make it a requirement to have a mechanic look at the car before finalizing the purchase. Most sellers shouldn't balk at this request, and if they do, it's a sign to move on.