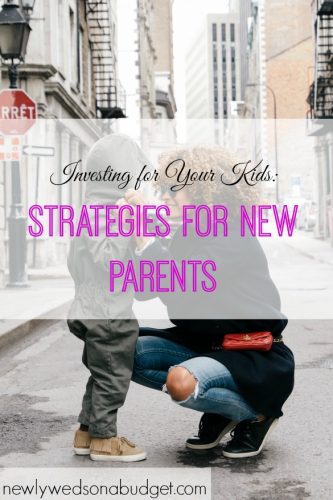 Millennials are having babies. About 20,000,000 of them have already done so. And there are plenty more where they came from. If you are reading this, you have likely already had a kid or two of your own. Or you are probably thinking about taking the plunge. In either case, there are some important financial considerations to make. One of these is investment. All new parents should have investments for themselves, to help cover the challenges and income-deprived years of retirement. But that's not the kind of investment we're talking about here. Many new parents are starting to invest on behalf of their young children.
This strategy has many advantages for the child in question. The money that accrues over the next 18-or-so years could one day pay for a college education, for a house, for a wedding, or any other number of important life events. Or your child may just decide to leave the money in his or her account when he or she comes of age. With twenty or more extra years to enjoy the benefits of compound interest and a (hopefully) growing economy, this is an incredible way to help you child to get ahead financially, all without having to put in a ton of money all at once. This is just an outline of one model for investing for children. There are plenty of others.
For instance, there is Forex trading. Forex is the opposite of long-term investments, usually built upon index mutual funds or their equivalent ETFs. Forex trades can resolve in hours, days, or weeks. Furthermore, it's a system that will earn the user more money according to how much skill is learned and applied to each trade. For those who are unfamiliar, Forex trading is all about currency values. Most brokers divide currencies up into pairs. The real world value of each currency is noted in the exchange rate between the two currencies.
It's up to the investor to correctly anticipate how these values will change over time. In a given investment example, an investor might anticipate that currency A would grow in value relative to currency B, over a period of 6 hours. The investor might think that this would be the base because that morning, Currency A's treasury department announced that it would be lowering national interest rates. The investor put in a lot of money, and at the end of 6 hours the value of currency A had indeed grown, even more than the total anticipated. The dividends released were in proportion to the amount by which the value exceeded the anticipated final value.
Losses are incurred the same way, meaning that this is a high-risk endeavor. But because Forex relies on the skill and insight of its investors, it's a controlled risk more so than low-risk index mutual funds, which rely on a mindless market. While Forex wouldn't be recommended for people unwilling to take the time to learn (using one of most brokers' free tutorial accounts), it's a reliable alternative to long term investing, for new parents around the country.