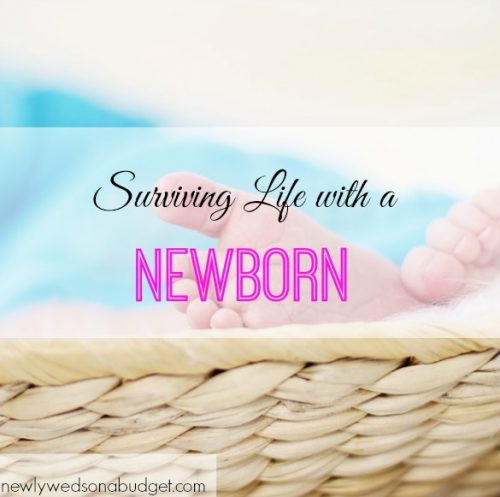 I've been meaning to write. I really have.
Every night, I go to bed with the best intentions for the next day. I go over my to-do list in my head, and I think "Tomorrow will be better. I will get more done tomorrow."
And then I wake up in the morning–although, can you call it "waking up" if you've been up half the night–and realize that no, today will not be the day I get things done.
Our little boy will be four weeks old in a few days, and I am barely starting to see glimmers of light.
I have been so utterly exhausted. I feel like this newborn stage is something people just don't talk about. I mean you hear all the time that people with newborns don't get sleep, but newborns sleep like 18 hours a day, so how could it really be possible that you wouldn't ever sleep?
To be honest, I don't really know. Baby E will sleep sometimes half an hour, sometimes 3 hours, but then decides he doesn't want to sleep at night. The first week or two, I would be up til 3, 4, 5 in the morning. One night, I was up so long I got to see the sun rise.
And in between those cat naps he takes, I feed him. Breastfeeding has been so ridiculously hard, and it wasn't until the third week that it started to get better. I can see why people would give it up–there were definitely times I eyed that formula.
Around week 3, we started getting some "good" nights. Meaning, he would sleep for 3-4 hour stretches at a time. I remember the first time I got a four-hour stretch of sleep, I seriously felt like a bear coming out of hibernation-it felt so good!! But then the next night, he would be up from 2-5:30.
I finally started talking to other moms, and they tell me that it is all normal. That eventually it will get better. And in a way, it has.
I started pumping a few days ago, and it has allowed me to have Eric give baby E one of the middle-of-the-night feedings. This means that for the past two nights, I have gotten the most sleep in the past month. He actually goes back to sleep after eating, which is like a miracle.
Two nights of sleep? This means that I finally had enough energy this morning to write a post. (In full disclosure, I am pumping while writing this because I'm all about multi-tasking these days).
Let's see, what else? Oh the mom guilt. My kid is not even a month old–how can I possible feel mom guilt already? But the truth is, I feel guilty every moment I'm not with my baby. Right now, he won't sleep unless we hold him to sleep, but all the baby sleep books tell me I should NOT be holding him to sleep. But I WANT to hold him to sleep–he's so little. But does this mean that it will take longer for him to learn to sleep on his own?
I feel guilt during the nights when I pray for him to be older so I can sleep more. Then during the day, I remember to enjoy these snuggly moments because he won't be this little forever.
I already feel guilt that I'll have to leave him to go back to work in February. How will I do it? Yesterday, I sneaked out during a nap to go get a much needed pedicure, and I felt guilt that I wasn't watching him sleep. I feel guilt that all throughout my pregnancy (and even before) I had said I wanted a girl, because now I realize how much I love our little boy and I know that I would be perfectly happy having a house full of boys.