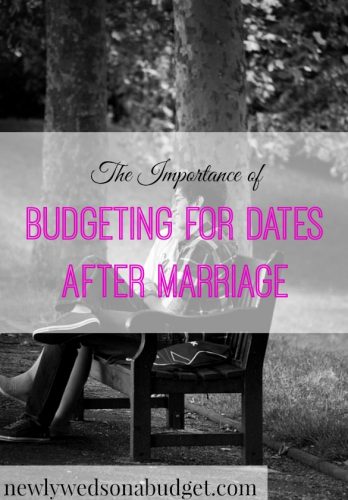 Budgeting for dates after you get married is very important. One of the best pieces of advice someone gave me when I was engaged was to not let anything change within our relationship and to keep 'dating' each other. When you get married, the idea of dating each other can sound a little silly.
Your relationship moves to a deeper level and you're now a married couple, not just two kids getting to know each other. Yet and still, you need to have dates. It's important to have that one-on-one time with each other. I know dating can be expensive and that's why I recommend mixing in a few budget dates whenever funds are tight.
Here are a few other reasons why you should make time for dates and prepare your budget accordingly.
It's Important to Stay Connected
I'll admit, my husband and I are technically still 'newlyweds', but we haven't been on many dates since we got married. After our honeymoon, things got extremely busy and we settled back in at our jobs and tried to focus on paying off our debt. We paid off $4,000 in debt during the first three months of marriage which was a huge accomplishment but we didn't really go on any dates as a result.
When you both work or just have busy lives, it's important to make time for dates with your spouse in order to maintain that connection you have. Just talking about each other's days for a few minutes each evening is not enough. Think back to when you were dating and trying to get to know each other. There are probably still some things you'd like to learn more about each other and you need that quality time to talk, laugh, and stay connected.
It Feels Good to Get Out
Dates are great for helping you break out of your same old routine which can get boring. Sometimes it feels good to just dress up and go out to dinner or catch a really good movie in the theater. You can also try new experiences with each other as well to spice things up.
You Need Time Alone
If you have kids and include them in everything you do then that's not a date; that's a family outing or a 'family date'. We struggle with this a lot because we like to do activities together as a family but as a result, we won't get much alone time if we include our son in everything. This is why we strive to have private dates every now and then and tell him they are 'adult dates' or 'adult outings'.
He didn't like hearing this at first but now he's used to it and knows that sometimes mommy and daddy will do things together without him. Alone time can be a great escape as well.
Budgeting for Dates
My husband and I can't afford many splurges right now since we are so focused on saving and paying off debt. This means we have to have a few budget dates every now and then which is fine. I actually love budget dates because it means we don't have to spend an arm and a leg to have quality time together.
I do think it's important for couples to have a date night fund too, however. This way, if an opportunity comes up that does involve spending a bit of money or you just want to be spontaneous and go on a date, you ca afford it.
When establishing your date night fund, you need to determine what you and your spouse like to do for entertainment. We like watching movies, going out to eat, playing mini golf and bowling, playing video games, and sometimes going to concerts. We pretty much will try out anything fun and exciting.
Once you determine what you like to do and how much it costs, set up a savings account with automatic transfers every time you get paid. You don't have to contribute a ton of money if you don't have it, but just depositing $10 each every two weeks can go a long way.
Once you mix in budget dates with not so frugal ones, you'll be able to stretch your date fund even more.
Fun Budget Date Ideas
Like I said, budget dates can be super fun if you're willing to get creative. Here are a few budget date ideas to consider if you don't want to spend a ton of money.
Redbox movie night at home
Board game night with popcorn and snacks
Video game competition – bust out that one video game you could never beat and try to get to the next level
Picnic in the park
Hiking
Camping
Cook a fancy dinner at home and eat by candlelight
Go for a scenic walk or ride bikes together at sunset
Stop by a local ice cream shop for a sweet treat
Drive In Movie Theatre
Discount Bowling
What do you think continuing to date after marriage is important? What budget date ideas could you add to this list? important? What budget date ideas could you add to this list?