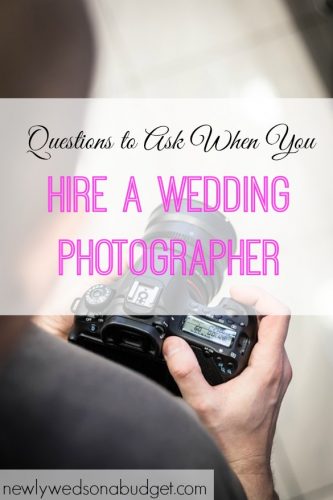 In today's society, most of us are semi-obsessed with taking pictures. We take selfies, Snapchat and Instagram images to capture interesting and important moments in our lives.
There's really nothing wrong with that. As a mom, I take a ton of pictures because I know my son is growing up so fast. I put them on social media (sometimes in private albums that only I can see) because I want to look back on them in the future when my son is much older.
When it comes to your wedding, many couples will swear by hiring a professional photographer and again, I see nothing wrong with that even if you are trying to keep costs low.
There are just so many benefits to hiring a professional photographer to shoot your wedding and provide high-quality photos while you sit back and enjoy it. However, depending on which route you go, photographers can cost quite a bit so you want to make sure they meet expectations.
I believe my husband and I paid about $600 for our photographer and while I love my wedding photos I wasn't blown away by all of them and I wish we would have done more poses. In order for you to avoid having similar regrets, be sure to ask yourself some of these questions when you hire a wedding photographer for the big day.
Do You Have a Contract?
Your wedding photographer should have a contract but if you hire a family friend or a student, they may not have one. Reading through the photographer's contract first is a must and may answer a ton of questions you have like what time they will arrive, what kind of equipment they will bring, how long they'll stay, what type of photos they'll take, how and when they'll accept payment and more.
Our wedding photographer's contract even stated that if she got sick on the day of our wedding, she'd send another photographer in her network to do the job.
If your photographer doesn't have a contract, you'll need to discuss all these things with them and establish one so there are clear terms regarding the services they'll provide.
Is Gratuity Included In Your Fee?
The wedding industry is all about tipping and gratuity so if you're planning a wedding on a budget, you must determine if you will need to tip your photographer or not.
That way, you can prepare for any extra costs.
Does Your Fee Include Photo Processing?
Another important question to ask your photographer is how they will get your wedding photos to you and how much extra it will cost if anything. Some photographer's rates are only based on them showing up and taking images and you may need to pay extra for your prints.
Luckily, my photographer didn't charge anything extra to process our images and she just divided up 1,000 photos took on our wedding onto 8 CDs and mailed them to us.
That way, we had digital photos that we could blow up and turn into prints ourselves which I think was much cheaper.
My Bridal Party Includes ____ People. Do You Have Experience Shooting a Group Like That?
If your photographer hasn't shot many weddings or if you have a particularly large or small wedding party, you'll want to ask this question. My wedding party included 23 people in addition to my husband and I and I don't think I even told my photographer that and just assumed she had experience shooting a large group like that.
Now, I still don't know if she had the experience or not, but as we were taking pictures, I realized she seemed a little passive when talking to our group and slightly overwhelmed by how many people there were. Needless to say, it took a long time to get everyone positioned and I felt the pressure of returning back to the reception to greet my guests.
If figured that if I would have told my photographer, she might have had time to think about how she would handle such a large crowd.
Do You Think You Could Come Up With Some Pose Ideas?
This is another question I wish I would have asked my photographer. I liked my wedding images because they really captured the essence of my big day, however, I regret not asking my photographer to come up with more pose ideas and just assumed she would.
My husband and I didn't get to do any cute or romantic photos and overall everything went so fast.
When will I receive my wedding photos?
This is probably one of the most important questions you'll have after your wedding. Your photographer may answer this question in their contract, but if they don't be sure to ask so you'll know when you can expect your images.
Keeping lines of communication open with your wedding photographer and asking the right questions is the best way to get more bang for your buck.
What questions would you ask your wedding photographer?