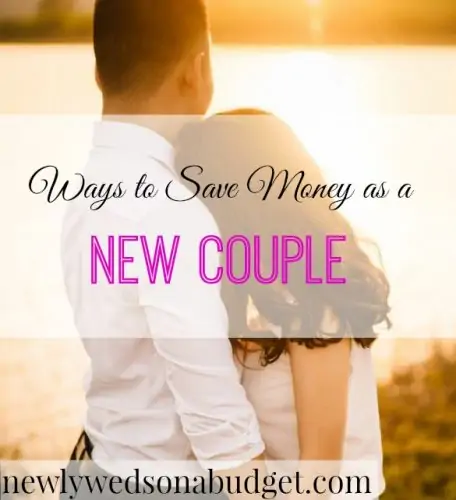 After returning from your honeymoon it is finally time to settle back into your home and your new life as a married couple. This is a big change, but it can really benefit both parties if you make smart decisions on everyday things. You can cut down on your bills and save money in no time with a few helpful saving tips!
When two people move in together that, of course, means a shared rent, shared food, and so on. Therefore more likely than not expenses will already cut down. Even though you probably received some great gifts from your wedding, there are probably other things that you need as a couple. First, talk to your partner and make a list of things you need and don't feel bad including things you want as well. This may be items to spruce up your home, some tools for gardening, new appliances, or even a car to help you get around more easily. Make a checklist and in no time you will checking things off with ease!
Once you have your to-do list, do not stress because things can get done with fewer worries and less money spent when you utilize resources around you. For example, instead of buying things full price, try to search for some coupons online or in the newspaper. Many stores like Target, Walmart, and Kmart have great prices and continually have promotions to help you save more money. They may not be known for it but they definitely have items for your home to take it from drab to fab. Do not look past these stores because they are deemed as affordable. Affordable is awesome!
Also do not be embarrassed to return some of those wedding gifts that are not to your liking or are something you already have. This will help make more space in your home for things you want and you will end up with store credit for most of the gifts. Then you can actually buy something you need and will use without you spending any additional money!
After you purchase those items you've been wanting for your home, then it is time to move on to the other, perhaps bigger items on your list. Even though you have moved in together, it does not mean you have to share everything, especially your car. If you are in need of a new vehicle then now could be the time to get one even if your partner has one. Having your own car allows you not to be dependent on anyone else to get your around and it is quite liberating. Unfortunately, cars can be quite pricey, but like shopping for items for the home, look around and you can be surprised what you find.
There is no need to visit every dealership in your area, instead just ahead online and browse to help you find the car you want. Feel free to seek advice from friends and family and even from strangers online. Many car sights have helpful reviews of different makes and models of cars. For example, cars.com has a lot of reviews of cars. All you do is select the make, model, and year of the car you are searching for and reviews will come right up! Cars.com is also a great resource if you are looking to sell or buy a car as well.
If you head to the site there is a tab that says "Buy" and there is another tab that says "Sell & Trade". Whichever applies to you, click on it, and get to browsing. Buying or selling a car is quite simple. If you want to buy a car you can choose between used or new and then search by make and model. There is even an advanced search for more in-depth searching. If you are looking to sell your car that is really simple too. You can create a classified ad to post on the site or you can just sell directly to a dealer. They make it super simple!
Being a newlywed couple should be stress-free and exciting, not filled with worries of expenses. Although marriage brings two incomes together, it is still a time to consider future costs like starting a family. Saving now can help a lot in the long run. Just always keep your eyes open for deals, check out different stores, compare your options, buy what you need, and use different helpful sites!