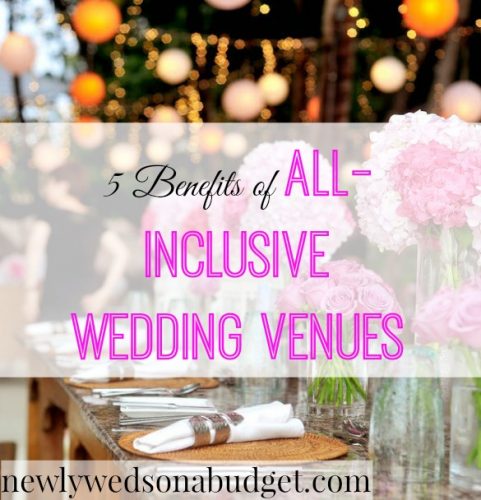 When I started planning my wedding, I didn't know I would choose an all-inclusive wedding venue. Initially, I wanted to get married in this adorable wedding chapel and choose from partnering vendors for the dinner portion of the wedding. This isn't a bad option, but I chose an all-inclusive venue, the first venue my husband and I visited, and it was the best decision we could have made.
If you want to plan a dream wedding on a budget, here are 5 reasons why you might want to choose an all-inclusive wedding venue.
1. Cheaper
Since everything is done under one roof, couples need not worry about paying multiple vendors to offer their services. Think of it as receiving a bulk deal for getting a phone, internet, and cable services all from one provider.
All of your wedding expenses all rolled into one price including gratuity, so you don't have to worry about tipping, fees, and paying for separate services.
2. Convenience
All-inclusive packages may vary, but most venues can take on as much responsibility as you want them to. Our particular venue set up chairs, tables, and decorations provided the buffet dinner
and cocktail hour hors d'oeuvres, provided servers and bartenders, cut our wedding cake, set up speakers for music to play during the ceremony, and even designed our table centerpieces with fresh flowers.
I was so relieved to have them cover the bulk of the heavy duty work and go above and beyond the requirements of the job, so my husband and I could have a relaxing wedding.
3. You Might Get a Wedding Coordinator
Some all-inclusive venues offer a wedding planner or coordinator to help you plan and execute your big day. Don't expect a full-blown wedding planner to call you every other week, help you pick out a theme, or walk you through every step of the process, though. At the very least, you can realistically expect a day-of wedding planner or coordinator.
My day-of coordinator was helpful making sure everything flowed properly and my husband and I had everything we needed.
4. Saves Time
Everything runs smoother with an all-inclusive venue. On your wedding day, time is of the essence. You book your wedding and reception for a certain number of hours, and you need to be on-time and ready-to-go to make the most of the time slot you have. By having my wedding ceremony and reception at the same all-inclusive venue, I saved so much time and money.
We didn't have to pay to transport ourselves and the wedding party from one location to the next. When we were done taking photos and ready to enter the reception hall, all the buffet food was ready to go, and we didn't have to wait for a caterer to arrive.
5. Different Packages Are Available
For some perfectionists, who like to DIY (I don't blame you because I prefer to do most things on my own as well), booking your wedding at an all-inclusive venue may not seem ideal, because you might fear it will limit your creative power.
This is exactly the opposite because all-inclusive venues offer many flexible packages and options. My venue was willing to let me create my own centerpieces (even though I chose not to in the interest of saving time) and I could bring extra decorations and customize the menu.
My husband and I were in control of everything our guests ate, and we crafted a flawless menu of our favorite meals, with vegetarian options. We brought in cookies and a popcorn machine from outside vendors, and we ordered our cake from a bakery of our choice.
DIY weddings are great and look amazing. Realistically though, they require a lot of effort and time to pull off. If you don't have the spare time to do the extra planning, nor a solid support team behind you, it can be a very unpleasant wedding planning experience.
What do you think of all-inclusive wedding venues?