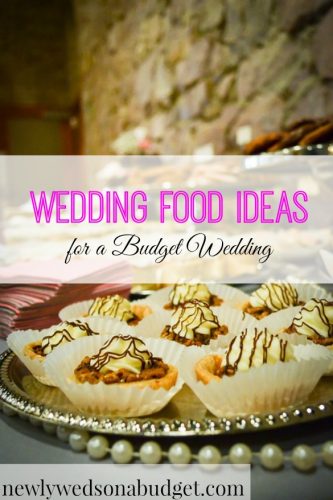 Up to 2 million people get married in the US every year leading to the creation of a whole new industry. Yet many people set out to have a wedding without knowing exactly how much it's going to cost. On average, weddings can be very expensive.
According to ValuePenguin, the national average cost of a wedding in the US stands at $29,858. It ranges from a low of $13,637 in Iowa to $88,176 in Manhattan. Among the items that add up to this cost is catered food at the reception. It is, therefore, important to work around food costs in a bid to save on how much you will pay for your wedding.
Here are some great food ideas you might include in your wedding day reception menu:
Italian Foods
If you are looking for the easiest food menu to include in your wedding reception go Italian. You might want to try balsamic chicken penne. This is not just delicious but reheats quite well if it was prepared beforehand.
Alternatively, consider making a considerably large serving of bruschetta to serve the entire crowd that accompanied you. Bruschetta is normally served in small serving bowls in as an accompaniment of French toast topped with mozzarella. The good thing about Bruschetta is that you can make it advance and wait to toast the bread. For the cheapest catering services talk to the staff at the local Italian place. After all, a professional chef who can give you the most cost-effective services.
Lasagna/Pasta
If you are looking for a fancy food, then go lasagna. You can do both a veggie and chicken one so as to cater for the needs of your guests. You can serve your pasta with or without meat. For a complete veggie set, include salad and garlic cheese bread. You will find yourself spending as little as $5 per head.
Barbeque
If you are looking to save on the cost of food at your wedding reception, consider having a barbecue. Avoid unnecessary by talking to the local BBQ place. That way, no one in your team will have to handle the food, thus saving you lots of money. Apart from avoiding dealing with food on your wedding day, you save on the cost per head with a barbecue.
Mac & Cheese Bites
If you are looking for a great veggie appetizer, consider going mac and cheese. All you have to do is ensure your catering team chooses from the many different scrumptious kinds of cheese. Blend the cheese with butter and crushed crackers for a crispy outer layer for your mac and cheese bites.
Loaded baked potatoes
If you want your guests to go away with full stomachs, consider having baked potatoes. Have your catering team bake mini potatoes in the oven and stuff them with bits of bacon and sour cream shredded cheese. Who wouldn't enjoy the effect of this bite-sized treat melting in the mouth?
One of the easiest ways to save on the cost of food for your wedding is to avoid serving out-of-season foods. That way, you don't have to spend lots of money transporting the food from far off.
What's your favorite type of wedding food?