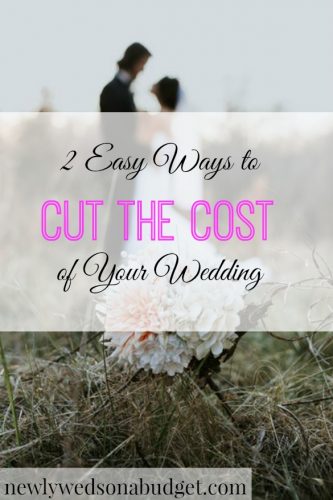 When you search online for ways to cut the cost of your wedding, there are dozens of ideas and solutions that will pop up. I've heard almost every recommendation in the book and that's a good thing because having variety means everyone will be able to find the answer they're looking for that applies to them.
At the end of the day, you'll have to give up or change a particular aspect of your wedding in order to cut costs. This still means you can have your dream day – just realize that your dream will look much different than anyone else's.
Before you start thinking about cutting the guest list, doing away with flowers, and skipping the cake, be mindful that there are 2 super easy ways to instantly cut the cost of your wedding and these decisions will allow you to save BIG.
Two of the easiest ways to cut wedding costs include choosing the time of day and the right time of year. Let's talk about these two options in detail and how they'll allow you to save thousands of dollars on your big day.
1. Have Your Wedding During the Non-Peak Season
Having your wedding during the peak summer season is, most likely, going to result in a pricier event. If you are flexible with your dates, you can have your wedding during the off-season like early fall or late spring.
The weather may not be warm enough to have an outdoor wedding, but you may have a little wiggle room in your budget by avoiding busy and costly months, like June, July, and August. Depending on where you live, September and October may even be a great time for a warm outdoor wedding.
I got married on May 1 technically right before the busy summer wedding season. We chose the day because it was our anniversary and we knew we could probably save some money and ever have more space since we wouldn't have to compete with other events for our venue. Our second option would have been to get married in late August or September.
However, everything worked out for May 1 and we even had the entire event hall to ourselves for the reception since there were no other events that evening.
2. Avoid a Saturday Wedding
The next easy way to severely cut the cost of your wedding is to simply have it on any day but a Saturday. I know weekends are the best time but if you really want to knock four figures off the cost of your wedding with one decision, this is the best choice you can make.
Friday and Sunday weddings are just as popular. While Saturday weddings may seem convenient to your guests, it's not convenient to your wallet. Saturday weddings cost more than weddings held on any other day of the week. By having our wedding on Sunday instead, my husband and I automatically generated $1,000+ in savings. It was that easy.
Sunday weddings aren't as bad when compared to a Saturday wedding. You can start the wedding earlier in the day and end the reception at 9 pm or 10 pm for anyone who needs to get to work the next day. If your close friends and family value your big day, however, they might just call off work to attend your wedding. If one of my sisters were getting married, I would accommodate whatever day they chose so I wouldn't necessarily feel bad about avoiding a Saturday wedding.
Choosing the specific time of year, day of the week, and time of day for your wedding are by far, the easiest and most effective opportunities you have for saving money.