Some people prefer to wait until they get married for various different reasons while others are eager to tie the knot as soon as possible. One of the biggest factors that could depict when you get married is money — more specifically debt.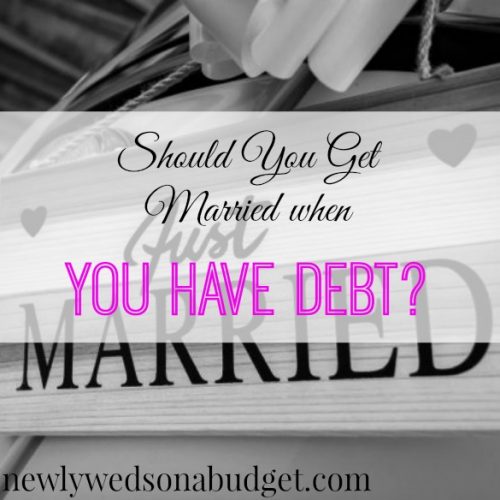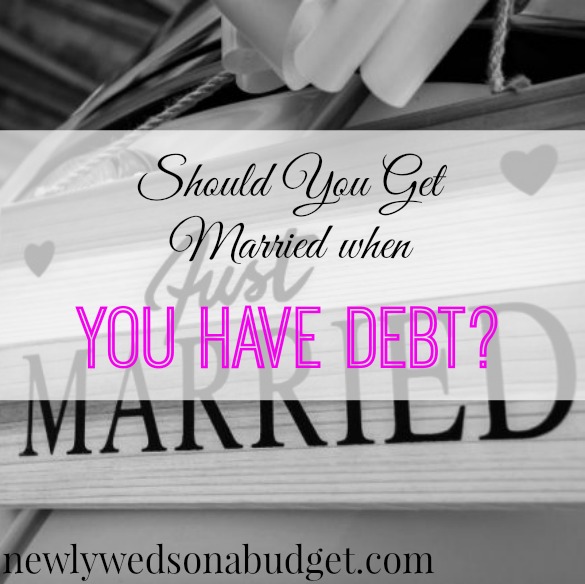 If you're drowning in debt, you may not want to get married right away. Or would you?
My Story
I met my husband while in college, and we started dating during the summer of my junior year. We both graduated around the same time, and we were very broke and in debt. When he proposed right after college, I was ecstatic and eager to get married.
There was just one problem though… we were broke.
Since we'd be managing money together as a married couple, I thought it would be interesting to see how much our joint debt amount was, and I was shocked to see we owed $40,000!
This debt included our student loans, my husband's car loan, and a few credit cards, plus a Tempur-Pedic bed we financed a while back. I was shocked and discouraged. My first thought was: We shouldn't be getting married with all this debt. It's not the responsible thing to do.
If you've been reading this blog for some time, you know that I've been married for over a year now and we still have a little debt. Here's what changed my mind along with some factors you should consider if you're wondering whether or not you should be married before you pay off your debt.
What to Consider
How stressful is it being in debt? Being in debt can be a stressful situation if you feel like payments are eating up all your income. If you don't have control over your debt and your finances, you may not want to rush and get married right away. Focus on getting on a budget, and paying down some of your debt while building a small emergency fund first.
Have you and your partner been completely honest? Make sure that you and your partner are on the same page with your finances. You should each know much debt you hold separately, as well as your combined debt total. Sometimes, it's scary to admit to being open about your debt with someone but if you're planning on marrying them, you want to start out with a foundation built on truth.
Can you get married without accumulating any more debt? This is a big question to ask yourselves. My husband and I realized that we didn't want to take out any more debt to get married so we got on a tight budget and utilized out resources in order to pay for our wedding in cash.
We focused on making a few sacrifices and cutting expenses while earning more money. We made a strict commitment not to take out any more loans while we were engaged.
Do you have a financial plan for after the wedding? Sit down together and discuss how you'll tackle your debt after your wedding if you decide to get married before paying it off. Whose responsibility will it be to make payments? Will you want to make extra payments? etc. Since getting married, my husband and I have been able to work together to pay off over $20,000 of debt.
Choosing exactly when to get married is a very personal decision and you want to feel comfortable in your relationship as well as financially. If you can manage your debt and want to have a small ceremony, it may not make much sense to hold off your nuptials.
On the other hand, if you're drowning in six figures of debt and want a $20,000 wedding, you may want to take some time to improve your finances first.
What do you think about getting married when you're in debt?