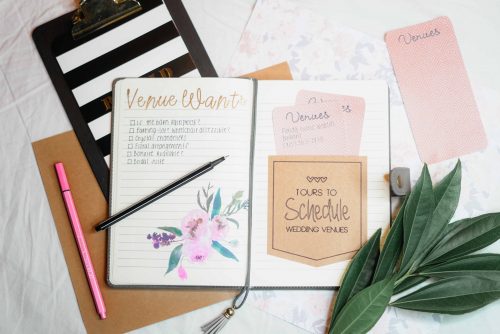 Until the end of time, you'll probably hear people complain and how expensive weddings are, whether it's a close friend, coworker, or family member, you're bound to be on the receiving end of the wedding planning chatter. 
Couples spend an average of $33,931 on their wedding in the United States according to The Knot. That equates to the cost of a brand new car, four-year tuition at a public university, or a down payment on a house. But here's a hot take: weddings don't have to be as expensive. 
Contrary to popular belief, you can tie the knot on a budget and spend half, or even a quarter, of that budget on a wedding by for lack of a better term, cutting corners, on a few things. 
Below are five ways you, or someone you know, can save money while planning an upcoming wedding in a big way. 
Get Rid of Excess Flowers
Flowers are an easy decoration to go overboard on. From the tables to the aisle, the bouquets, and around the altar, your florist will find ways to sneak baby's breath, hydrangeas, peonies, and roses on every corner if you let them (à la Carrie Bradshaw and her $9,000 flower expense for her wedding with Big according to Shane Co).  
When working out a plan with your florist, look for flowers that are in season or for flowers that are less expensive dupes to nicer flowers. It's also smart to stick to a few different types of flowers so your florist can order in bulk. 
Consider a Sunday Wedding 
If you've been to a wedding before, chances are it was on a Saturday. In fact, 7 out of 10 weddings fall on this day making it the absolute most expensive day of the week to get married. 
Saturdays tend to be the most convenient day for attendees and the wedding party, so venues typically upcharge on this day which can lead to thousands of dollars of difference between a Friday or Sunday wedding date. 
Grocery Store Cake Isn't Half Bad 
Truth be told, most wedding cakes go uneaten and the majority of it will remain in the bride and groom's freezer for the next year or so after the wedding. While most have a tradition of eating the cake on their first anniversary, it's such a small detail to the wedding most people tend to go overboard on. Grocery stores sell just as beautiful cakes for a fraction of the cost. These days, couples tend to have a smaller cake to keep for themselves and for the obligatory cake cutting photo and then offer cupcakes to the rest of the guests. 
Forget the Favors 
Another forgotten item at weddings are the favors. Couples spend hundreds and even thousands on putting together bags full of goodies for guests when most are left behind and never to be used again. 
Your guests will be having so much fun dancing and eating the night away, the last thing on their mind will be to pick up a goodie bag filled with items that have your last name stamped over them. 
Trim Your Guest List 
Last but certainly not least, cut down your guest list. The number of guests attending your wedding will make a world of difference in the price of your wedding overall. Truthfully, your guest list is the core of most of your wedding expenses. From catering to the venue (the most expensive costs), the number of people attending your wedding will cost you an arm and a leg if you let it. 
If cost is really a concern, consider cutting the plus ones or take off your 3rd aunt that you've never spoken to in your life. At the end of the day, the guests at your wedding should be your closest friends and family and that's it.