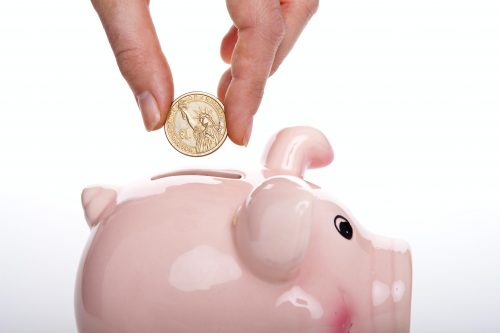 As a young couple, finding great places to put your money is important. Usually, you're saving toward big goals. So you need a savings account that will help you get there faster that also keeps your cash safe. While there are certainly a ton of options available, some are better than others. If you are looking for the best savings accounts for young couples, here's what you need to know.
Choosing the Best Savings Account
What separates a great savings account from a mediocre one can depend a bit on your unique needs. However, there are certain features that you should universally pursue, regardless of your situation.
Above all else, you need to make sure your account is FDIC or NCUA insured. That way, if the institution collapses, your money is protected up to the limit. For FDIC and NCUA accounts, the limit is usually $250,000 per institution.
After that, focusing on high-yield savings accounts is a good move. By securing a better interest rate, you earn more over time, allowing your money to work harder in your favor.
For example, as of the week of June 8, 2020, according to the FDIC, the average savings rate was a measly 0.06 percent. Considering that finding a high-yield savings account with an interest rate above 1 percent is fairly simple, settling for anything less doesn't make sense in most cases.
Look Beyond The Interest Rate
However, you also need to look beyond the interest rate if you want to find the best savings accounts available. Fees can quickly chip away at any interest earnings, so it's wise to focus on accounts that are fee-free.
Additionally, you need to consider accessibility. If you are using the savings account for your emergency fund, then the ability to tap those funds quickly is important.
Now, this doesn't necessarily mean you need to limit yourself to banks or credit unions with local branches. As long as you have an ATM card and access to in-network, fee-free ATMs nearby, that may be enough. Similarly, if bank-to-bank transfers are quick, or you maintain a checking account at the same institution, allowing you to shift the fund there when the need arises, accessibility might not be an issue.
Finally, mobile access to the account should be considered a must. It allows you to monitor your balance, deposit checks, and handle a variety of transactions at any time from nearly anywhere. Nearly every institution has a mobile app, so it doesn't make sense to choose one that doesn't come with that convenience feature.
3 of the Best Savings Accounts for Young Couples
Ally Bank
When it comes to high-yield online savings accounts, Ally Bank has long been a leader. Ally typically has one of the highest interest rates around. As of June 2020, every account, regardless of the balance, was earning 1.25 percent.
Additionally, Ally doesn't charge any monthly maintenance fees. There is also no minimum balance requirement, which is nice for young couples who are just starting to save.
The Ally mobile app is incredibly convenient and intuitive. Plus, you have access to a strong network of ATMs, allowing you to withdrawal your money with ease, should the need arise. However, you could also choose to open a fee-free, interest-earning checking account with Ally as well. If you do, you could transfer your savings into your checking at any time, giving you near-immediate access to your funds.
Finally, Ally is known for offering exceptional customer service. If you ever have an issue or want an answer to a question quickly, that can make a world of difference.
Capital One
With a Capital One 360 Performance Savings account, you gain access to a 1.15 percent interest rate (as of June 2020). You get to keep every penny of what you earn, as there aren't any maintenance fees associated with the account. Capital One also doesn't have minimum balance requirements, so you don't have to worry about keeping some money back to maintain your account.
On the technology side, Capital One has a lot to offer. The mobile app is very capable and extremely intuitive. Plus, there are savings tools that can help you build up your cash stash, including automatic transfer options.
The bank also offers interest-earning checking accounts, which is a nice bonus. Additionally, unlike many other high-yield savings account banks, Capital One has physical branches. That gives you the ability to get help in person and deposit actual cash, something you can't do with some other high-interest banks.
Fitness Bank
When it comes to unique options, Fitness Bank is one of the wildest. It gives customers a chance to earn up to 1.50 percent interest rates (as of June 2020), suggesting they are willing to do what it takes.
Now, getting that rate doesn't mean you have to pay fees or maintain an incredibly high balance. Instead, what you have to do is get a high enough step count. That's right; Fitness Bank gives you a higher interest rate in exchange for being active.
The Fitness Bank mobile app tracks your activity level, either directly through your phone, typically by pairing with select Garmin or Fitbit trackers or through Google Fit or Apple Health. As long as your average stays above 12,500 steps a day (10,000 steps for anyone over 65 years of age), you qualify for the highest tier.
Maintain A Minimum Balance
Now, you do have to maintain a minimum balance of $100 to avoid the $10 maintenance fee. However, $100 is also the minimum deposit, so you technically cross that threshold on day one, suggesting you don't make a withdrawal that dips into the deposit.
For couples who are physically active (or who want to be), this can be a great incentive for getting in more steps (or other qualifying activities). Your fitness goals can help your financial ones, which is something you might not see nearly anywhere else.
Can you think of any other savings accounts young couples should consider? Share your thoughts in the comments below.
Read More: