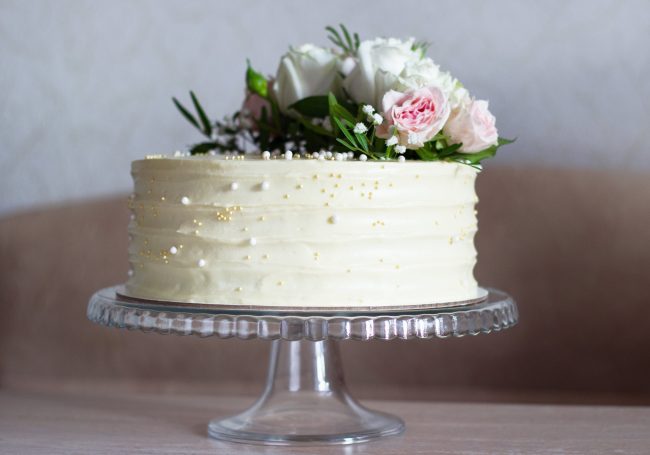 Your wedding cake is often a centerpiece of your reception. However, they can also be quite expensive, putting a strain on the couple if they have a tight budget. Luckily, it is possible to get an extraordinary cake without breaking the bank. You simply have to use the right approach. If you need to keep the cost of your wedding cake down, here are five budget-friendly wedding cake ideas that can help.
1. Have a Small Display Cake (and Serve Sheet Cake)
If you want to keep the cost of your wedding cake down, don't aim to serve every guest from the display cake. Instead, keep that cake small, limiting it to just one or two well-decorated tiers.
You can use the display cake for the cake cutting, as well as serving a limited number of attendees, such as the wedding party or parents of the couple. In most cases, you can also have the smallest tier set aside, allowing the couple to take it home.
When it comes time to serve cake to guests, use a sheet cake instead. They are far easier to make, keeping the cost lower. Plus, they can still feature the same flavors, ensuring your guests get to enjoy the ones you chose for the display cake.
Another benefit of using sheet cakes to serve is that you can have separate ones for different dietary requirements. You could have most of them made the same way and request a smaller sheet cake that's gluten-free, dairy-free, or otherwise features alternative or limited ingredients.
2. Choose the Right Frosting
In most cases, wedding cakes either feature buttercream frosting or fondant. Both have their own benefits and drawbacks, including when it comes to flavor, how easy it is to work with, and the final look.
If keeping the price down is a must, buttercream is usually your best bet. Fondant is typically far more expensive than buttercream. Plus, it can be difficult to work with, increasing the amount of time it takes to produce the cake.
However, if you want an incredibly smooth finish on your cake, fondant could be a better choice. Getting buttercream to have a similar smoothness can be unbelievably time-consuming. If a completely sleek look is essential, then fondant could make that easier to achieve.
It is important to note that, if cost is the top priority, you could go with a naked cake. A naked cake doesn't have an outer layer of frosting. Instead, it only has frosting between the layers.
Naked cakes can be great for a wide range of wedding styles. It's possible to make them look refined or rustic, allowing you to achieve the right overall look. Plus, it may give you room in your budget for unique flavors or could allow you to use a non-traditional filling since applying frosting on the outside isn't part of the plan.
3. Choose a Simple Design Style with Limited Embellishments
When it comes to the cost of a wedding cake, a significant portion is based on the amount of work involved. As the amount of time needed to create the cake goes up, so does the cost. As a result, even a smaller wedding cake can get quite expensive if the designs are intricate.
If you need to have a budget-friendly wedding cake, keep the design simple. Limit the number of embellishments, especially those that have to be created by the baker by hand. By doing so, you reduce the amount of time it takes to complete the cake, keeping the cost as low as possible.
4. Use Food-Safe Real Flowers Instead of Sugar Flowers
Creating sugar flowers is labor-intensive. Even if the designs seem simple, they can be surprisingly challenging to make, pushing the cost of your cake upward.
In many cases, using real flowers can be less expensive, especially if you add them to your broader floral package. If you go this route, speak with your florist in advance. That way, they can provide food-safe blossoms for your cake.
5. Add the Cake to Your Catering Package Instead of Using a Baker
Some caterers can produce lovely wedding cakes. By requesting a cake from your caterer instead of using a separate baker, you may be able to reduce the cost.
With this approach, the cake is being added to a larger package. At times, this results in a savings right off the top.
Additionally, some caterers actually require the cake to be part of the package. If you go with a separate baker, you may actually encounter a fee for not using the caterer, pushing the total cost of your wedding up.
Do you know of any other budget-friendly wedding cake ideas? Share your thoughts in the comments below.
Read More: