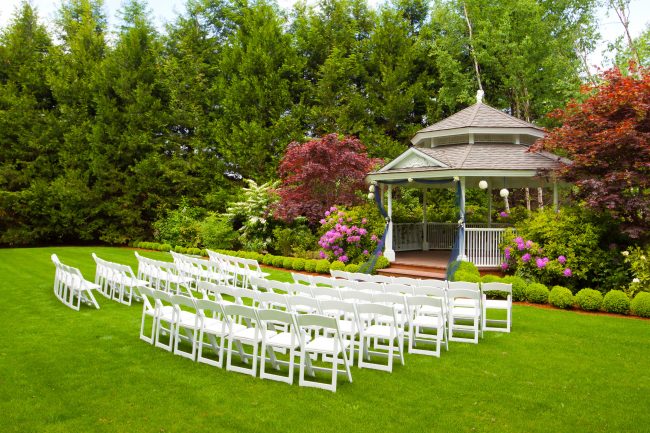 Small wedding venues in Arkansas have a lot to offer couples. Whether you're looking for a location with unique features or are simply trying to find a budget-friendly ceremony site, smaller wedding venues can be a great match. If you're looking for a ceremony and reception spot. Here are five must-see small wedding venues in Arkansas.
1. Graduate Hotel – Fayetteville
If you're looking for a quirky venue. The Graduate Hotel Fayetteville could be ideal. It features unique, colorful spaces, as well as rooms that can be tailored to align with your taste. Plus, you'll get support from event planners and a culinary team. Thus, simplifying your planning efforts.
For couples that need rooms for out-of-town guests. This venue offers discounted block rates. You'll even get a custom link for your wedding website, making it easy for attendees to reserve their rooms.
Another nice option available at this venue is the micro-wedding package. You can have up to ten people in attendance for the smallest option. That version includes seating, a champagne toast, and an overnight stay in a suite for the couple. If you opt for the up to 30 person package, you'll get a sparkling toast, fruit and cheese tray, seating, and more setup time, as well as the overnight stay for the couple.
2. Nixon Flower Farm – Jacksonville
If you want a lush outdoor ceremony, Nixon Flower Farm could be your ideal venue. The location features a large farmhouse with dressing rooms for the wedding party. Plus, there's an ample kitchen with all of the appliances you or your caterers will need to create a delectable meal.
Outside, you'll find well-manicured gardens featuring a variety of plants. There are several spots that could be ideal for a ceremony, allowing you to take advantage of the breathtaking natural backdrops.
As a bonus, the venue provides a few key amenities. You'll have access to event lighting, outdoor speakers, arches, gazebos, and a dancefloor. For the rest, you'll need to coordinate with an outside vendor.
3. Blue Spring Heritage Center – Eureka Springs
At Blue Spring Heritage Center, you get a breathtaking backdrop for your wedding, reception, and photos. From quaint gazebos to vibrant gardens to picturesque ponds, there is something for nearly everyone.
One of the biggest benefits of this venue for a small wedding is that there are a number of sites available for ceremonies and receptions. If you're having a micro-wedding, you may want to use one of the gazebos for your ceremony or the Azalea Terrace.
If you plan on having more than six guests, then you can try the Bluff Shelter & Medicine Wheel Garden or one of the pavilions. For the reception, you can continue the celebration outdoors or transition into the Conference Center.
For your convenience, this venue also has simple packages. You can secure a minister, tables, arches, and canopy tents directly from the location. Beyond that, you'll need to work with outside vendors.
4. Garvan Woodland Gardens – Hot Springs National Park
If you're looking for an elegant venue with lovely outdoor spaces and unique architecture, Garvan Woodland Gardens is worth exploring. The location has romantic gardens, breathtaking overlooks, spacious pavilions, cozy gazebos, a chapel with vaulted glass ceilings, and so much more.
The venue can also host an indoor reception. The Magnolia Room offers plenty of room for dining and dancing, making it an excellent option for your celebration.
There are certain rental items available at the venue as well. For example, you can get sound services, table cloths, and golf cart services. You'll need to handle the rest of the details.
5. The Chapel at Dragonfly Farms – Dover
If you're looking for a venue with rustic charm, the Chapel at Dragonfly Farms is a must-see. There's a wood-clad chapel, barn-style pavilion, open meadows, stone paths, live-edge benches, and so much more at this location.
One nice feature of this venue is the packages. You can keep things simple with an elopement ceremony. With the intimate version, you'll get two hours of access and an officiant. With the exclusive option, you'll have four hours of access, an officiant, and a few extras, like flowers, cake, and a sparkling toast.
If you'd like to have a larger event, the inclusive package might be a better fit. The venue will handle everything, including your flowers, décor, food, drinks, dessert, and more.
Do you have a wedding reception venue or a place to stay for a guest? Try hosting your site with Airbnb. 
Can you think of any other amazing small wedding venues in Arkansas that couples shouldn't overlook by mistake? Share your thoughts in the comments below.
Read More: