I am so excited–today was the day we received our first local farmers/all organic produce box!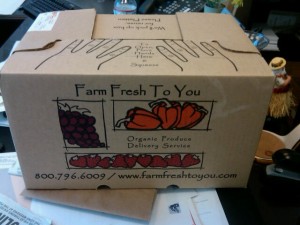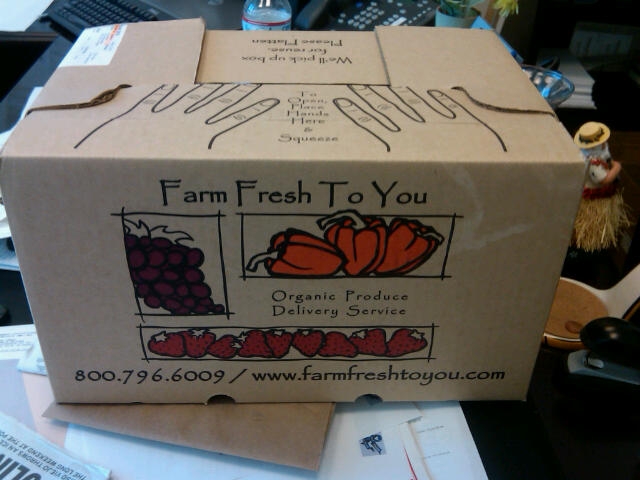 For about $32 every other week, we get a box of locally grown, all-organic fresh fruits and vegetables ranging from about 15-18 pounds. That's only $60 a month–or about 20% of our food budget. Most of our food budget goes to fruits and vegetables anyway at our local Growers' Direct. However, we wanted to start eating organically and this seems like such a cost-effective way to do that.
Another plus to going with a Community Supported Agriculture (CSA) was that we'll get to try out new fruits and veggies that we normally wouldn't buy because we're afraid how they might taste or we're unsure how to cook them. But our CSA provides great recipes to try out every week with our food!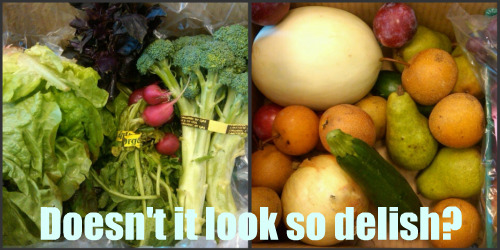 AND if that weren't enough, we can also tell them if we don't want a certain vegetable or fruit each week. We just go online, take it off our list, and they send us something else instead. This week, we got apples instead of 2 pounds of tomatoes (I HATE tomatoes and Eric LOVES apples). I can't wait to actually taste the food.
I hope it's as good as it looks. Oh and one more thing! (I tend to talk a lot when I get excited!) Our CSA is hosting a farm tour next month and Eric and I hope to go! You get to meet your farmers and see how the food is grown. How awesome is that?
If you're interested in joining a CSA in California, email me and I'll send you a code for a discount! Plus you'll be helping Eric and I out because we get a discount too!
So far, I'm giving Farm Fresh to You the Newlywed Budget seal of approval!