So it's the last day at the month…this is where we look back and applaud ourselves for being so good with our budget…OR look at ways in how we can improve and stick to our budget.This months is one of those "what can we do better" type of months…
It's not all doom and gloom though, we did cut back on major areas of our budget, unfortunately we spent a lot of money on extras too.
This is how we set out to spend our money in September.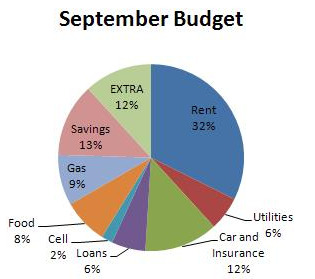 Knowing that Eric's income was going to be erratic due to his new job and being on a training schedule vs. full-time for this first month, we were prepared to make some cutbacks.
You may recall our September Goals. Well, I'm not going to bring up that pesky goal thing again because let's face it–we didn't make a single goal.
This is what we ACTUALLY spent for the month of September.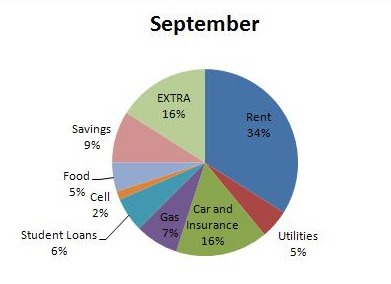 Good things
While we didn't make our $0 Food Spending goal –uh, what was I thinking???–We did manage to cut our food spending by 3%.
Eric's commute to work has drastically decreased, also cutting our gas budget by 2%.
Not-so-good things
Our "Extra" income, meaning our discretionary, spend-on-whatever-we-want-and-whatever-we-need-for-the-house income grew 4%!
Our insurance bill grew (although this should have been in the first budget, because I forgot to originally include Eric's insurance…)
Our contribution to savings

decreased

by 4%!
Overall, this month was definitely a 3 on the 10-point excellent budget scale. And to make matters worse, we paid over $1000 to our credit cards and even got one down to $0 (!) but you would never be able to tell because we ran into some unforeseen circumstances that caused us to go back up–including a $400+ car repair and a $107 bill that was a misunderstanding on our part.
We can't be too hard on ourselves. We were working on a practically 25% reduced income than normal AND we're dealing with paying a deposit, and extra rent for a week due to the move.
The one thing I am upset about is our "Extra" income. If we're serious about getting out of debt by our first anniversary–April 2–we seriously need to step it up and cut out the discretionary spending. I will say we started out in the hole pretty early due to a Labor Day spending spree, but I hope we can cut back our spending in October. Especially because of the extra rent we will be paying AND some upcoming changes that will seriously affect our budget in about a year…
We'll post our October goals tomorrow. New month, new budget.