We did it!
This weekend, while Eric was held captive by his job for practically three days straight–I had a garage sale with my in-laws! And we made big bucks! Well…big enough to buy some essential (read: pillows, rug) items we needed.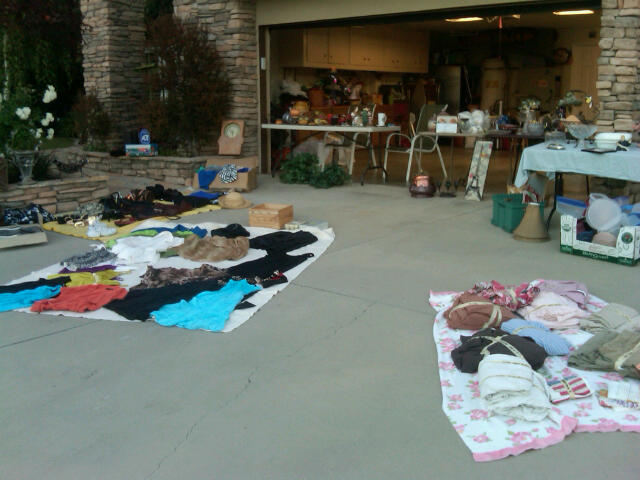 This is how the Great Garage Sale started. I had to wake up at the ungodly hour of 6 a.m. on a Saturday…
By 7 a.m. the signs were up, and we were swamped with customers!
Honestly, I was pretty embarrassed by some of the stuff I was selling, like my old make-up, nail polishes, face wash…etc…
I mean: Who was going to want to buy my junk?
What if they laughed at me and said: "You want a dollar for this piece of crap?!"
I think my fear of being laughed at led me to under-price my items, but at the end of the day I was happy people bought so much stuff!
My original goal had been to make $50 so I could at least buy my red ruffles pillow for my couch.
Well…the grand finale was…drumroll pleeeeeaaaassseeee….
$79! (plus an extra $20 my mother in law threw in for being such a great daughter in law! and so that I could buy my pillows!)
For a grand total of:
$99
Not bad for a garage sale. And all that was left at the end of the day was a small little box…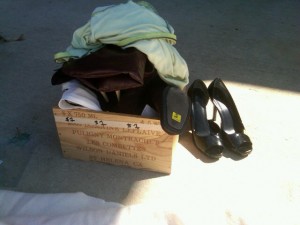 And that old makeup I was so embarrassed of selling? Sold it ALL.
Now that I've actually started packing for the big move this week–we start moving tomorrow!–I've filled up TWO BOXES already of stuff I want to sell!
Luckily, my parents are doing a neighborhood-wide garage sale in two weeks!
I may just become a permanent sales girl…
and wait till you see what I bought with my earnings!
Join our newsletter
Get the latest content straight to your inbox.