So yesterday we got the doom and gloom about our September budget, BUT Oct. 1 is a perfect way to start fresh!
Based on what we perceive to be our income for this month, here is our new Goal Budget for October!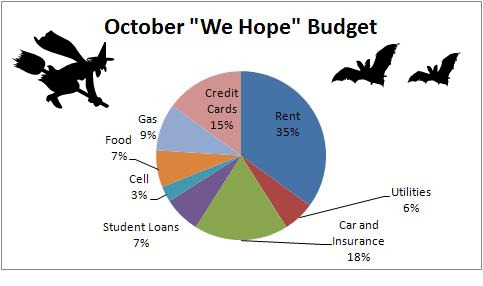 There are a few things to note. 1) We're still unsure of Eric's income since he has been in training this past month, so we estimated conservatively. 2) We're also unsure how much in utilities we will have to pay for September/October with the move.
One thing you will NOT see in this new budget–"EXTRA." Obviously, we didn't do too hot with the extras last month and went completely overboard. While we don't plan on being destitute, any "extra" income we DO have will be coming straight from Eric's side job as a waiter.
I'm still learning how to budget everything and account for all our spending money, and it's hard to tabulate when your income changes month to month!
And now what you've all been waiting for! How is our debt coming along?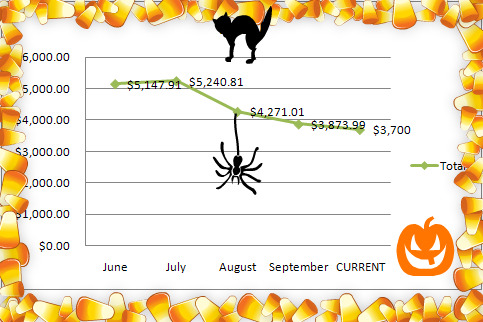 In the end–while we put over $1000 toward our credit card debt this month, an AMAZING feat–we only took off $173.99 from our last month's balance due to those unaccounted for expenses.
*Insert audience "boooooo" here*
So that's the bad news…the GOOD news, is that $650 freelance check that I've been waiting for since June? FINALLY ARRIVED TODAY! And guess where that bad boy is going? If you guessed credit card debt, ding ding ding!
*Insert audience applause here*
We still plan on contributing even more to our credit card debt this month, to hopefully put us back on track to be out of credit card debt by April 2nd!