There are few things that can give me a thrill quite like shopping or dessert. Since dessert makes me fat, I choose shopping.
But shopping when you're on a budget is torture. It's like you know the other shoppers are just taunting you…Look at everything you can't have…
Still, I really needed a pick-me-up. So off to the store I went…with my bag of returns. Last week, I had gone to T.J. Maxx–the frugal girl's mecca– to buy a whole bunch of stuff to make a cute little gift basket for a wedding gift. During this shopping trip, I also bought a table runner for my little home, which turned out to be too short.
I returned the runner and another item. But instead of leaving right after, I decided to walk around the store. Eric and I are moving at the end of the month, and I already have ideas of how I'd like to re-decorate our new little home. And by "re-decorate," I really mean "re-arrange" since it's not like we can really afford anything new. But I am a firm believer that $20 will take you a long way.
So I bought a few items, a couple of candles, and also some drinking glasses because we only have about 5 glasses right now and we always seem to be running out–especially when we have company! It turned out to be a great buy because one glass from the boxed set was missing and I got $3 off! So each glass was only $1.33! And they match our Crate and Barrel glasses really well!
Can you tell which is which?
Anyway, so with my $20–which I got from returning $20 worth of stuff, so really it didn't cost me anything (Eric tried to argue with my logic, but I am standing firm that I didn't lose any money since it's money I had already spent ANYWAY)–this is what I re-decorated in our home…
This is what it looked like before: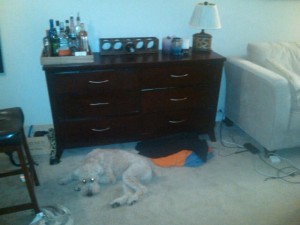 And here's a close-up of BEFORE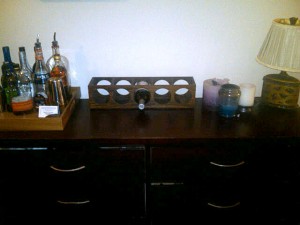 And this is what it looks like NOW, after my "re-arrange" and stuff from TJ Maxx: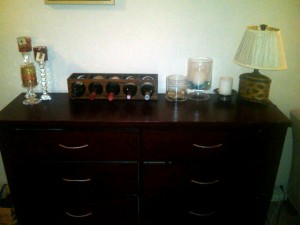 I plan to make it look a lot better when we move into our new home, but this is for starters. I already had the crystal candlesticks from before, and I had the large hurricane as well. I bought the smaller hurricane for $3.99 and filled it up with wine corks we had. I plan to get some pine cones to fill up the large hurricane and give it a Fall-y type look. I also want to get a runner eventually.
(I know many people may be wondering why I changed it up considering we're moving in two weeks…and the answer is I'm impatient. I wanted to see what it would look like NOW).
So there you have it–a completely guilt-free $20 shopping spree and "make-over." (I don't care what Eric says…)