Eric here today.
My wife was tired of the look of our wooden coffee table. Well, she wasn't exactly tired of it, more like "This coffee table is so ugly, I want something cute, Eric fix it!"
About a month after we got married, she found this coffee table on Craigslist for $15 and I was really pleased with her find, until I found out she had more plans for this table–and it involved me doing work.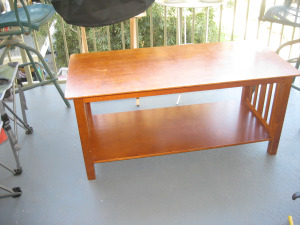 Most of our furniture is a mix of what we both had, so nothing really matches. The only items we bought were our dining table for $300 and our sofa for $300. Ever since then, all I hear from Erika is how she wants to paint this, and add pillows, and candles and more stuff, stuff, stuff. I just say "Yes, honey" and hope she goes and does her thing. Until her "thing" involves me.
I admit there were a few things that were wrong with the coffee table– it was a little bit wobbly and there were water glass stains from the previous owner not using coasters. So after she nagged nicely asked me, I finally agreed to paint the table. We went to Home Depot together and bought red paint (a Dozen Roses color, a Low VOC Paint and Primer in one by Behr Paint) and a sealer (Clear Satin Minwax® Polycrylic® Protective Finish Spray Can). We also bought a small one-use roller brush and tray, some sand paper, and I borrowed a Purdy paint brush from my dad for the areas the roller can't get to.
I first sanded the entire table completely to make sure the paint would completely seal into the table. If you paint the table without sanding, it won't stick to the wood and will chip off (something I had to explain to Erika every time she said "but it looks sanded to me!"). You really need to get down to the bare wood of the table and also make sure you clean off all the sawdust.
Then start painting, a little paint at a time to prevent blotching. I start with the easy roller first, then use the brush to get to all the areas the roller can't go. After the first coat is dry, apply a second coat.
Once the second coat is dry apply a coat of Minwax.  Make sure you apply it evenly throughout. Again, let this first coat of Minwax dry, then apply a second.The table actually looked brand new once I was done with it. And I doubt we'll need to get a new one for a long time.
Once you've let the table dry, sit back and relax and watch your wife be happy. "Happy Wife, Happy Life" is the motto in our family.
Overall cost:
Table: $15
Supplies: $30
Labor: The work was spread out over two weeks, because…well, sometimes it just takes me a while to get my act together. If I had hustled and bustled, I could have finished the project in two days, but sanding is boring and it's not like I got much help from Erika.
Oh yeah and sorry we don't have any more pictures of the process, I kept forgetting to take them, until Erika yelled at reminded me.
Happy Wife, Happy Life,
Eric