Our house is a mess. Hangars are everywhere. I have no storage for anything. All our bathroom supplies are still in boxes. And those green vomit-inducing curtains are driving me INSANE. I know we just moved a week ago, but still!
If you think I'm kidding, this is what our house looked like Sunday night.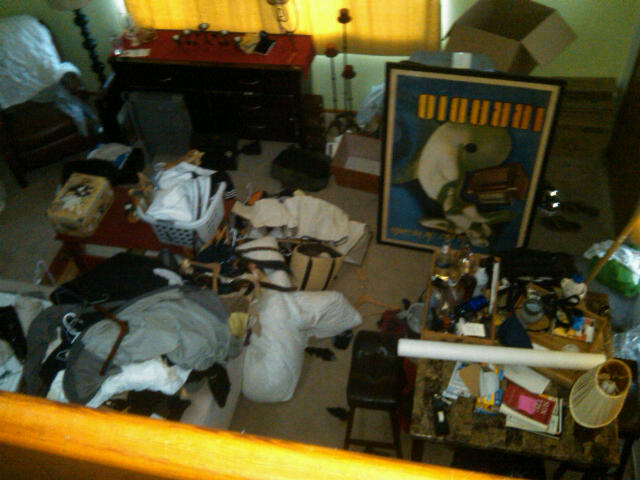 It's like an episode of Hoarders.
These things would have never bothered me when I lived at my parents' house. I would have just shoved the hangars to the side and created a little walkway so I get to my bed and the bathroom and I'd be fine.
But now I have my own home and I hate, hate, hate, having it dirty.
So who do I naturally take it out on? Eric, of course.
I'm frustrated and angry because I can't sit on our couch because it's covered in clothes. Somehow I translate this into words with–"why can't you put water on the dishes when you put them in the sink??" And that's if they even make it into the sink. And then I think of the past two weeks and count the number of times Eric has washed dishes (TWICE!) and all the number of times I have washed dishes (way more than TWICE!) and I start keeping score. And of course, his score is always way lower than mine.
It's like nothing bothers me more in this world than watching Eric have some free time and him choosing to do nothing. Because if I have "free" time, I'm always cleaning. And I hated that about my mom–I hated that if we were all sitting down watching a movie, she couldn't do it, she had to be cleaning something, or managing the bills, or watering the plants.
Why can't I just enjoy "free" time and choose to do nothing as well and not feel guilty about it?? How come guys seem to do it so easily? And yet, I always find something that needs to be done?
And worse–how do I stop being resentful? How do I stop feeling like he's my child whom I must constantly remind to "put your things away"?
Things I may have said recently:
"Your dirty clothes go in the hamper not on the floor"
"Your shaving stuff goes back in the cabinet, not on the counter."
"The dishes go in the sink"
"If you use the last of the toilet paper, replace the roll"
"Don't leave your empty mug on the coffee table, it goes in the sink."
"You were home all morning, there is no reason why I need to come home to a sink load of your dirty dishes."
So what came first–the chicken or the egg? My nagging or Eric's refusal to put his things away? Does Eric need to try harder? Or do I need to learn to let some stuff go?
There must be a balance somewhere.
Where do you find your balance?