I have never been irresponsible with money. I had my first credit card at 14. In college, I had an on-campus job and babysat A LOT. I have never been late on a payment, I have never  defaulted on a loan, I have excellent credit.
But the biggest financial mistake I ever made was buying more car than I could afford.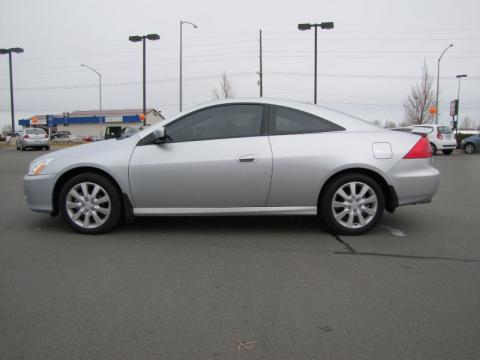 image found here
(not my car, but just like my car)
I love my car. It is a 2006 Honda Accord Coupe, fully loaded with leather seats, sun roof and navigation system. And yes, I bought it brand new in September of 2006, meaning I've been paying this car for five years and it's not due to be paid off until August 2012. A six-year payment plan! That is insane.
How did I get myself into this mess?
Well, for one, my first car–a 1996 sea green Ford Escort I named Nemo– had broken down. So I had been without a car for a week and I was desperate to buy a new one. Desperation is never a good trait to have when you're buying a car.
I also had just graduated college and started my first job. I felt I deserved a nice car. It wasn't like I was splurging on a BMW or Mercedes. It was a Honda! I deserved a nice car for all my hard work.
I remember getting price quotes from dealerships online first. However, when I entered the dealership, the salesman automatically added $1,000 to the price he had originally quoted me by saying it was for the fresh coat of paint, the scratch-resistant stickers on the doors and some other BS excuse he fed me. I had read online to watch out for this kind of price hiking and to just walk away. But I didn't walk away–I desperately needed a car.
I also didn't know what I was signing. I had no clue it was a six-year financing plan. I was under the impression it was five years (still not great, but it was the only way I could afford the car.) I got financing through the dealership rather than my local bank–this mistake cost me an extra percentage point in interest. I only put $3,000 down. That barely covered the taxes.
Basically, I did everything wrong. And it cost me dearly. $434.96 a month for the past 5 years. That's an insane car payment in my opinion.
But I am so glad it's over because yesterday, I paid it off in full.
I paid it off in full!
Our savings is now back down under the $1,700 mark (although we do have an extra $1,000 floating in our vacation fund in case of a big emergency) but with Eric's paycheck coming by January 1st, I just couldn't wait any longer. I wanted that bill gone!
It felt sooo good to update our total debt.
I realized the mistakes I made and know that we won't be making the same car-buying mistakes in the future. I hope we don't have to buy a new car for at least another two years, but we'll see.
What was your biggest financial mistake?