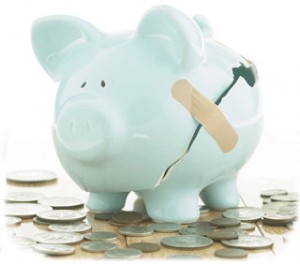 For every person on a budget, there comes a point where you ask yourself: when do I get to have a little fun?  But how do you justify traveling when you have debt to be paid off and emergency funds to be saved?
I love to travel. My family couldn't afford to travel much when we were younger, but I vowed that I would travel as I got older. On my own dime (and maybe a little bit of help from my parents here and there), I've been to New York, all over Italy, England, the Bahamas, Cabo San Lucas, Hawaii, Seattle. In college, I took out $1300 of my babysitting funds for a round-trip ticket to Australia to visit a friend and we roamed around all over thanks to some great hotel deals through Hotel Club Sydney.




But the point is, traveling is expensive. It's been no secret that Eric and I have not been on a real honeymoon–a long trip with just the two of us that involves a plane to get to your destination. I've been saving all my extra money for us to finally take that trip.
So imagine my sadness when I found out that we would owe a $1200 deposit, plus 1.5 month's rent upfront to move into our new home. We only have $1500 in our emergency savings account. Where was the rest of the funds going to come from?
That's right, my side hustle income. A part of me was really sad–there goes the honeymoon. Another part of me was mad–it's my money! Another part of me was just torn–how do I choose between two things I really want? A bigger home or a honeymoon?
I know other people will say we shouldn't go on a trip and we shouldn't move out of our shack. I know the responsible thing is to pay down debt, to save, to pay down debt some more, and save some more.
My Side Hustle Income is hovering a little over $2,000 right now–and remember I started off with $346 in October 2011!  This money could definitely be contributed to paying off our debt. Or at least to upping our emergency fund.
A vacation will always remain an extravagance unless we are perfectly financially stable. I know that people may disagree with our choice, but I am sticking with my guns on this one.
As long as we pay off our consumer credit card debt by April 1str (which we will), and as long as we have $1,000 back in our emergency fund before our trip (we will) and as long as the only debt we're left with is my student loans (which it will be), I am going to make it happen. We are going to go on a honeymoon. I am not touching our honeymoon fund for any other reason than a honeymoon.
We may be going on a frugal fast these next few months to make it through, but we will make it happen.
How do you justify extravagances when you're trying to pay down debt and save money?
image found here