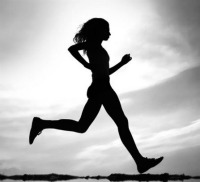 I'm just a beginner when it comes to running, but I'm still training for a half marathon.
My training for the half-marathon May 6 is in full force. I ran 5 miles last Saturday, which is the longest I've run since before I got married.
I'm running 3 miles on Mondays, 4 miles on Wednesdays, and 3 miles on Thursdays, with my long runs on Saturday. Tomorrow, I run 6 miles. Next week, it's 8, and so on.
Something strange happened last week too. As I woke up at 6 am to get my run in before the sun comes out, and it was just me on the trail, I actually felt like a runner. I know, crazy, right?
A month ago, I was complaining about how hard it was and please, would it ever get easier? And people were saying "oh yeah it will, I promise!" but I just wanted to yell "Liars!" Running is hard.
I am no speed bunny by any means and I'm averaging 10-minute miles (on good days). I also realize how much more I enjoy running outside than inside, now that I'm actually doing it. I was one of those people that would never ever go running outside. In fact, besides Cross Country in high school, the first time I went running outside in my adult years was with Eric when we were dating.
Now, I haven't stepped foot inside a gym since…early February?
In addition to running, I'm also doing Barre classes at Pure Barre. I love them and can't get enough! I signed up for the 1-month unlimited special for newbies for $100 and go pretty much every day (I've missed twice in the past 3 weeks). Unfortunately, the regular classes don't come with a pretty price tag at $25 a pop. I try to sign up for classes when they offer discounts, and I'm paying for them with my extra money.
Are you a runner?
Thank you to the following carnivals for including NoaB!
Yakezie Carnival at Not Made of Money
Carnival of Financial Camaraderie at My University Money
Canadian Finance Carnival at Canadian Finance Blog
Carnival of Retirement at Money Reasons
Financial Carnival for Young Adults at 20's Finances
Carnival of MoneyPros at Sweating The Big Stuff
Carnival of Retirement at Money Q & A
Yakezie Carnival at 20 and Engaged
Canadian Finance Carnival at Canadian Finance Blog
Financial Carnival for Young Adults at 20's Finances
Carnival of Financial Planning at Skilled Investor