I am convinced that I have discovered the secret to a happy marriage. Or perhaps, I've just discovered the secret that keeps our marriage happy: The Man Room.
When we were looking for a new place to live, we both felt strongly that we needed a two-bedroom. Two bedrooms typically offer more space in the living areas, which is what I wanted. But I think Eric had visions of a man room.
As soon as we moved in, I began decorating our entire place, scouring places online for  tasteful but cheap home decorations. But Eric gave me one specific rule: Don't touch the man room.
So I left it alone, and this is what it has turned into: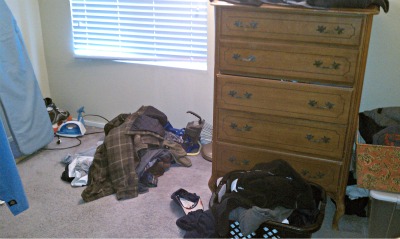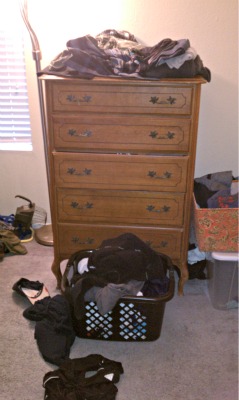 This room is rarely clean. About once a month, Eric will smile happily at me and proclaim: "I've cleaned the man room!" and it will stay clean for about all of 30 seconds.
His dirty laundry piles up on the floor until he needs to wash it. If he has clean laundry, it stays folded in the laundry basket and he just picks clean clothes from there rather than putting them away. His desk is always cluttered with materials.
This room is a wife's worst nightmare. So I just close the door.
I shut it out of my mind. And the best part is whenever Eric leaves dirty clothes on the floor in our master bedroom, I just throw it into the man room. Tidying up takes me so much less time because I just sweep up all of his stuff and dump into his room. No more trying to figure out where things go, or putting his stuff away. Now it's just "dump it in his room" and be done with it.
I can't tell you how many countless arguments this has saved. I used to fume whenevcer I had to pick up after him. While I still pick up his stuff often, I don't have to take the time to put it away–I just throw it in the man room.
Yeah, there have been times he's gotten mad that I just throw things in there, so I tell him to pick up after himself and then I won't have things to throw.
Trust me on this: Every man needs a man room.
What do you think of the man room?