I know I have annoying habits.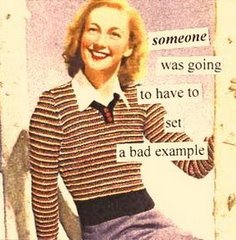 Eric says I always trash talk about him on the blog, and make myself sound perfect, but then never let anyone know my deep dark annoying secrets about myself. I told him to get his own blog so he could bitch about me.
But I'm fair game–you want to know what's annoying about me? Here you go:
I break things. ALL. THE. TIME.
Since we've been married, Eric has had to repair the garbage disposal no less than 4 times. Currently, the sink at our new place needs to be fixed because I've somehow managed to break it again.
And it's not just the garbage disposal. I break other things too. Like fancy stemware that costs $40 a glass–yup, I've broken more than $200 worth of fancy stemware. I only buy Costco wine glasses now.
Water Glasses left everywhere
At any given point, you can walk around our house, and find no less than three water glasses in completely random places. This is because I like to drink water and then I will forget where I left my glass, and get a new glass, and then the cycle repeats.
There have been times where there's been at least 5 glasses on my bedside table, all half-filled with water.
I steal the covers
My husband and I don't share covers. And if it were up to me, we probably wouldn't share a bed either. I like my SPACE when I sleep. Eric likes to cuddle–see how this is a problem?
I know it makes me sound like a cold-hearted bitch–and most of my family would probably agree with you (heck, my mom says I was born without a heart). But I just get really hot at night, and I like to spread out. In fact, when Eric works night shifts, I almost get a little excited that I get to have the whole bed to myself.
We need to invest in a king-size bed. We also need more covers.
I have a big mouth
I've gotten myself in trouble many a time over my big mouth. Sometimes I say exactly what comes to my mind without using any type of filter.
I'm mean when I'm hungry
Everyone knows not to come near me when I haven't eaten yet. If I get too hungry, I will eat you alive. But really, isn't this everyone?
What annoys you about you?