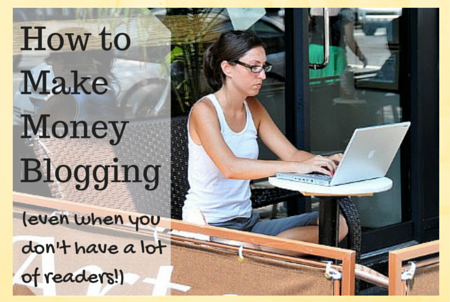 In 2013, I made more than $20,000 in extra money, with a large portion of that being directly from blog advertising. Since then, I've made more than $30,000 in online income, by simply keeping up with this "blogging hobby."
It is not my full-time job. I do it solely in the evenings and weekends and I don't devote hours upon hours to make it happen.
Your blog must be so popular, Erika. You must have a ton of followers. You must have all the hook-ups.
These are all myths when it comes to how to make money blogging. The truth is: You don't need a ton of readers to be able to make money blogging. It just requires some patience and hard work.
Whenever someone emails me, I am always happy to share my secret as to how I make money blogging. But now, I can share the secret with everyone: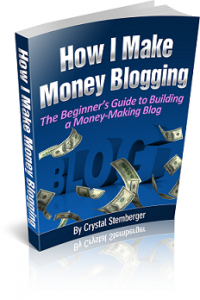 Click here to visit How I Make Money Blogging.
Whenever someone emails me about how to make money with their blog, I put them in touch with Crystal. She is the reason I have made any money off this blog.
And now Crystal is sharing all her secrets with you! She recently launched her new e-book, appropriately titled: "How I Make Money Blogging: The Beginner's Guide to Building a Money-making Blog."
A few things about Crystal:
She started her blog, Budgeting in the Fun Stuff (BFS), at the end of February 2010 and grew it into a site that has made more than $42,000 as of the end of June 2012.
In 2011, she also started several other sites, bought six additional sites to co-own, and  found other ways to make money online. She went from making a salary of $35,500 a year in a cubicle from 2005-2011 to being her own boss and working from home by July 2011.
Since then, she has brought in $6,000 – $23,000 monthly!
Crystal is now offering the manual on how to make money blogging with her new e-book, which covers:
Her Background with Blogging
Picking a Name, Host, and Blogging Platform
Main Parts of a Blog
Building Up Your Blog
Making Connections
Plugins
Rankings
Types of Ads
Ad Rates
Handling Offers
Tracking your Ads (Free Excel Sheet Example to get you started!)
Other Ways to Make Money Blogging
Action Plan to Get You Started Right Now
If you've ever contacted me about how I make money with my blog, you know I have always recommended Crystal and have been one of her biggest fans. She has helped little blogs like me make money off their blog, which has helped me pay off debt and save for fun things we otherwise wouldn't be able to afford, like family vacations! This is a great way to get started on your own, and start making money from your blog.
I am not being paid to write this post. However, I do receive a portion of the sales through my affiliate link.
The book costs $27 but considering I made $90 from my first ad, it will more than pay for itself.
 Click here to visit How I Make Money Blogging.
If you still have questions or reservations, please feel free to email me at newlywedsonabudget at gmail. I am always more than happy to discuss how much I make through my blog, how Crystal has helped me, and how the extra money has helped us on our path to financial freedom, including paying off $45K of debt in 45 months!