So in another moment of Pinspiration, I decided I needed to redo our hallway. While it's not completely finished yet (I still want to add a gallery wall), this is the process of decorating, which is always ongoing.
First, I decided to paint a red bookshelf that we were using as our entrance table.
This is me totally ready to do some major sanding. And those are totally my shorts from high school….um, ten years ago. I like to keep it classy.
The book case was red, and none of the colors in our new home are red–I'm going with more brights like chartreuse and turquoise. So I had to sand the book case to paint it turquoise. It's still a work in progress.
I had to split the sanding over two Sunday afternoons. Then I had to paint it–twice, and let it dry in between.
To go above the bookcase near the entrance to our home, I decided I needed a big statement mirror. However, since our finds are extremely limited right now, I chose to go the do-it-yourself route.
And this was my inspiration:
Yes, I decided I was going to make a mirror using plastic spoons.
I was a bit hesitant at first. I'm not Martha Stewart and wouldn't the spoons look really cheap? I wanted to make a statement, and I didn't want that statement to be "Oh was this your pre-schooler's project?"
Some of you may recall that I actually made the mirror that went above my bed (back when I was single):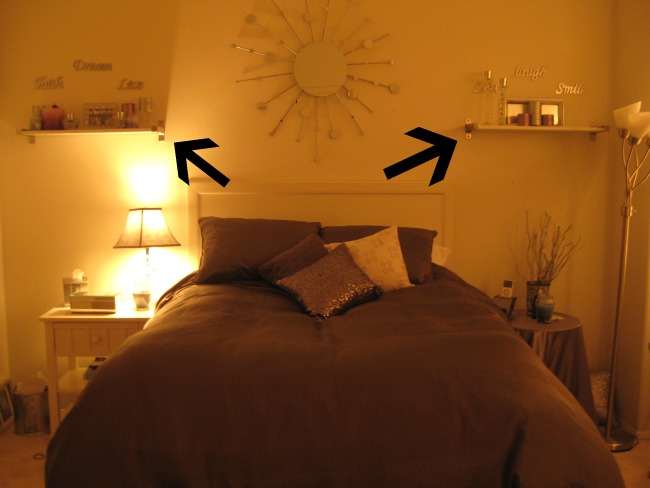 So that gave me a little bit of confidence to tackle this feat. Also, if there's anything I've learned from Young House Love, it's that sometimes you just have to go for it.
So I went to the grocery store, crafts store and hardware store, and stocked up on:
Project Supplies
Plastic spoons:$13
12 inch round mirror: $5.99
Small Paintbrush: $3.99
24-inch round wood thing: $18
Hanging material: $3
Total cost for project: $44
$44 is still way more than I really wanted to spend, but a big statement piece like this would have easily cost a lot more money, even at a home discount store where a plain round mirror runs for at least $50.
I started out by painting my wood piece. This was a very thick, sturdy piece of round wood purchased at Lowe's.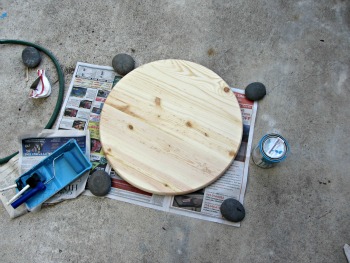 I then glued the mirror to the center of the wood.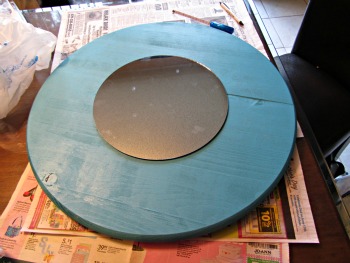 And then began to superglue the tops of the spoon around the mirror.
It really, really hurt to cut the spoons. I began the project on a Friday evening when Eric was at work. When he came home that night, I practically begged him to help my cut the spoons. He gave me the brilliant idea to use garden shears, which saved my fingers from hours of misery.
I finished the project on Sunday night. Spreading it over a few days helped me stay motivated.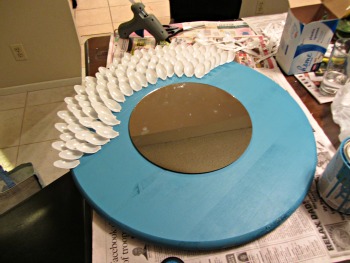 I guess I could have been more vigilant as to how many spoons I put and where and created a better pattern, but I just kind of went with it.
I think painting the spoons was my favorite part. I started out with the original turquoise color, and then just kept adding white to it to get the lighter tones on the outside spoons.
And this is how it turned out: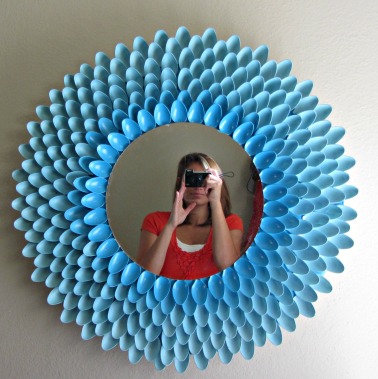 I obviously don't know how to take photos involving mirrors without me in them…
I am actually really, REALLY happy with the way the mirror turned out!
You can't tell they are plastic spoons, and it doesn't look cheap at all, imho.
Can't wait to show you guys the final re-do of the hallway.