So with my latest foray into channeling Martha Stewart, such as making my lemon and lime spring wreath and creating a statement mirror using plastic spoons, I think Eric started to get jealous.
Now, remember that we agreed he gets a whole room–the Man Room–to do with whatever he pleases. This is what it looks like on a random morning:
<Pictures have been removed at the request of the husband>
Even though it's messy, I still believe the man room is the secret to a happy marriage. So I let him do his thing with this room and I just keep the door closed–out of sight, out of mind.
One random day last week, while I was at work, Eric sends me this picture: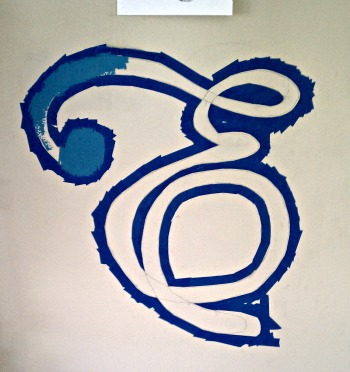 For the life of me, I can't figure out what he's doing. But I can figure out that he's painting, and that he's using the turquoise paint.
"Are you painting the man room?" I ask him. No response. I start to get nervous. Then I get this picture: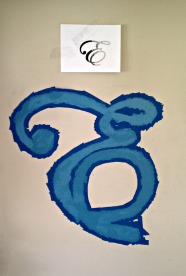 Now to put this project of his into context, let me explain. I had mentioned that I wanted a gallery wall on the hallway way at the entrance of our home. And as part of my gallery wall, I wanted to get one of those wooden Letter E's from a craft store, paint it turquoise and hang it up as part of the gallery.
So that is what I had in mind–small wooden E painted turquoise.
Eric decided he would "surprise" me by just painting the Letter E onto our entrance hallway.
In fact, he was so excited about it, he even took progress pictures because he knew I would want to document it on the blog.
Now, you can't really tell by the pictures the size of the E. And size really does matter.
Here's a photo that should give you an idea as to how big this E really is.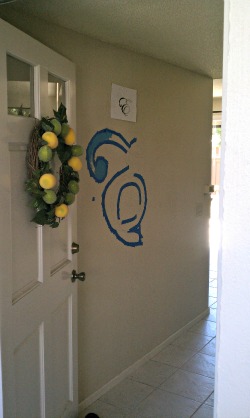 That is our front door, next to the E.
Yup, just one giant E right in the entrance of our hallway. And Eric said my gallery can go around the E.
You have to give it to him, his intentions were good.
But seriously, tell me:
What do you think of the E?