June was hard. Really, really hard.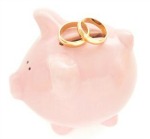 I was on such a high recently, with us moving into a new place, everything going great, getting a promotion, and decorating.
And slowly the wheels started to unravel. We're still trying to get back on track since Eric's injury in April which resulted in 5 weeks of no pay for him. I really thought we would be okay. But in May, we started covering expenses with a credit card to hold us over until he started working again.
Well, he went back to work in May and we started to dig ourselves out of the hole. But in early June, he started a new job.
At first, we were ecstatic. Even though the hourly rate was about 65% of what he was making before, the job was closer to home (20 minutes vs. 75 minutes), he had full benefits, and we were told he would get a full-time position with 24-hour shifts, as opposed to the 12-hour shifts he was getting with his old job. In the end, we expected that he would be making larger paychecks due to the increase in hours.
In the almost three weeks since he finished his training, he's had three shifts. We are on hold, waiting for a full-time position to be vacated so that he can take the spot. We don't know how long that will be, however we're told it could be anytime in the next few months.
I don't have months. I have bills that need to be paid and one shift a week isn't going to cut it.
I know some people don't care about finances and think that a few hundred dollars on a credit card isn't a big deal, but to me, it is a big freakin' deal. I don't want to be imprisoned by my debt and that's how I feel right now.
These are the last few years of my twenties and I want to be enjoying them, going out, traveling and being careless–not worrying about how I'm going to pay off credit card debt we keep building up.
To make ends meet, Eric started to pick up shifts at his old job, but it's still touch and go and it's still only a fraction of the money he was making before.
I am frustrated with our situation because I have no control.They made it sound like he would have a full-time position immediately. And even with part-time work, they said it would be easy to pick up shifts, but it is not.
I know his next few paychecks are going to be less than before and I just don't know how this is going to hold up when we are trying to get ourselves out of this hole.
Of course, of course, of course, I can always dig into the side hustle or other savings accounts if we were in dire need and couldn't pay our rent, but I really don't want to do that. Thankfully, we haven't had to make that decision yet. We're paying our bills and surviving paycheck t paycheck, but we are not paying down debt, and keep being one paycheck behind from paying off our credit card.
Sometimes I just get really frustrated with the situation we find ourselves in. It doesn't look like July will be any easier, so I'm just trying to focus on the positive and realize that our current situation is just temporary.
How often do you get frustrated with your financial situation?
image via