I got a promotion!!!
And I was like: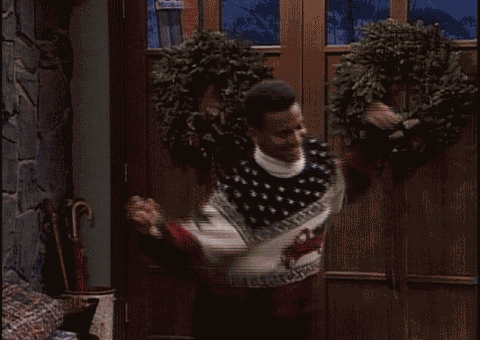 And I totally celebrated with ridiculous amounts of wine.
Because it's not every day you get a  promotion with a big fat raise!
Then reality sunk in…
What should I do with all this extra money?
In told, after taxes are taken out, it won't be like a ton of extra money, but it's still a pretty big push for us.
I received a 10.5% increase in salary. Considering my annual review gives me a 3% increase, this put me like 3.5 years ahead of schedule!
I felt like I had a pretty respectable salary before, and now I feel like I'm inching toward the big top! I really see myself moving on up in this organization. Not only do my supervisors love me (I think it's cause I'm fresh young blood), but there's also a lack of leadership among my older co-workers in my department–leaving lots of growing room for me!
Here are my options:
Pay down debt faster
I still have a little over $21,000 left in student loans. Despite the bumps we've had with our budget the past couple of months, I have still paid extra toward my loans every month, even though it's not as much as I would like. I would like to at least make a double payment each month.
Increase retirement
I currently contribute 3% toward my 401K (plus a 3% company match) for a total of 6%. I also have a rollover IRA from my previous jobs which has about $7,000 in it. Eric and I opened Roth IRAs, but have only contributed $100 each. I know we need to start upping this amount.
However, we both will receive pensions when we retire and this will contribute a hefty portion of our retirement savings as well.
Save, save, save
We have a LOT to save for. We want to buy a house by the time Eric is 35, this would require A LOT of money in savings, since basic houses in our area start at around $400,000 (if we're lucky).
We also want to buy a new car in the next two years, since who knows how long Eric's is going to last. And neither of our cars would fit a baby seat–and that will most likely happen in three years or so.
Invest
Eric and I have talked a lot about investing and it seems to be a good way to really build wealth. We've looked at several companies that offer smart investing, but I'm not sure if we're ready to take that step yet or if we should focus on reaching some of our other goals first.
***
I'm really leaning toward doing a combination of the top three. The three goals are to:
1) double my monthly debt payment
2) contribute $100 toward each of our Roth IRAs
3) Increase savings
What would you do with a 10% raise?