Well, the shit has finally hit the fan.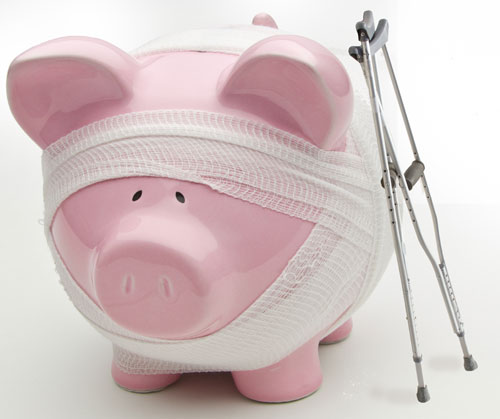 I was doing fine but I am now really feeling the effects of Eric being out of work and not receiving any paychecks for approximately five whole weeks.
Even though he's been back at work for two weeks, he has yet o receive a paycheck and I'm feeling it. A LOT.
The Bills
I thought we got lucky and got away with a $150 emergency room bill. If only.
In the past few weeks, we have received bills from all over the place: the emergency room itself ($567), the emergency room doctor –because apparently they have their own rates separate from the hospital???–, the sports specialist Eric saw after he got injured, and some other bills I can't even remember who they came from.
In all, I think we paid about $700 in bills in addition to the original $150 we paid. So $850. And that's WITH insurance.
Um yeah, Eric is never playing soccer again.
In addition to this $850 in medical crap, there are also some other purchases that needed to be made,  such as a $250 registration fee for Cal State Fullerton for Eric to finish up some classes. All in all, we are about $2,000 in the hole right now.
And yes, it's all on a credit card that is not due until June 8th. Before you begin stoning me, let me say that we have the money to pay it off…in our emergency fund.
Why I hate touching our Emergency Fund
I hate touching our emergency fund–and while perhaps not all of the purchases on our credit card qualify as an emergency, I definitely think the medical bills do.
Still–I hate touching the emergency fund. It's just too easy to go in there, take the money, and then have to start saving up again. I feel that we should suffer first and try to pay off as much as possible without going into the emergency fund.
Perhaps my problem is that our emergency fund is really more of a down payment fund. And when I touch the emergency fund, I feel like I'm taking away from our savings for a down payment.
Fixing the problem
I think to remedy this, I am going to have to distinguish the savings accounts and label one "Emergency Fund" and the other one "Down Payment" so that I can see them as two separate entities. Just like I don't consider my Side Hustle income any part of our savings, but rather Travel money.
Any way you slice it, financial setbacks suck. Just because we have the money, doesn't make it any easier to pay. I still hate seeing our hard earned money disappear, knowing that it could go to better things, like a down payment fund, debt repayment, or you know, that honeymoon that will happen one day….
The next few months
I think we're extremely lucky that May is a three-paycheck month for me, so my next paycheck–which I had planned to go straight to savings–will now go to paying off this debt. It sucks–no doubt about it, but I hope to get back on the financial track by next month.
What type of emergency justifies dipping into your emergency fund?
 image via