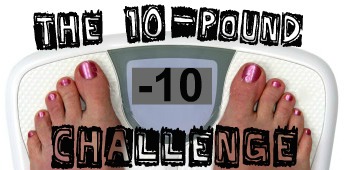 It's been a long time coming. The 10-Pound Challenge officially ended April 9th, and while the winners were contacted and received their prizes, I haven't gotten around to an update because well…I was hoping I'd have more to report.
First, I want to congratulate the winners:
Grand Prize: $75 Paypal Cash
Biggest Loser Prize: $5 Amazon Gift Card
Ali from Rap to Records and the bonus winner of the Biggest Loser Prize!
First Prize: $50 PayPal cash
Stacey from Newlywed Survival
Second Prize: Ipod Shuffle
Micah from Unabashedly Me
(2) Third Prizes: $25 Amazon or Paypal
BabyBluewater from Head over Heels in Debt
Lindsay from Hot Mess Cold Day
Fourth Prize: $20 Amazon or Paypal
Anne Marie (no blog)
Fifth Prize: $15 Paypal
Jamie from Me Mastering Money
I also want to again generously thank our donors!
First Prize, generously sponsored by The Money Principle
Second Prize, generously donated by Prairie Eco-Thrifter
(2) Third Prizes, generously sponsored by Budgeting in the Fun Stuff and Pinch That Penny
Fourth Prize, generously contributed by Bucksome Boomer
Fifth Prize, generously donated by Debt Eye
Biggest Loser Prize generously donated by Tight Fisted Miser
(the grand prize was hosted by me)
Now as for an update:
I had more than 105 people sign up for the contest when it started on January 16th.
At the end of the contest, on April 9th, only 21 people input their final weight.
What this tells me? It's ridiculously hard to lose weight.
My own journey has been up and down. I lost weight at the beginning and it slowly waned and came to a complete halt. In the past month, I have regained a few pounds back that I had originally lost. This sucks.
I even held off writing about the results for this long, because I was hoping I could starve myself enough to lose a few more pounds. No such luck. I love food too much.
I get really sad about it sometimes. Some days I eat really, really well (like today!) and other days I just go all out. Story of my life, I guess.
I thought that training for the half-marathon, and doing barre classes, were going to make the weight just melt off. But no matter how much you exercise, if you're eating a crap ton of food, you're not going to lose anything.
I don't regret the working out. My butt is as hard as a rock thanks to Barre class. But I have a feeling I am going to be on this weight loss journey for a while longer.
I am starting to realize that it is much more of a lifestyle change that needs to be made, and I really think I am at least headed in the right direction. I know we are eating a ton of vegetables in our house. I am not going to stop trying to lose weight, but I don't want to obsess about it as much anymore.
I never want to get complacent. And perhaps I just have to come to terms that I am always going to need to focus on healthy eating, until it becomes second nature.
How are you doing with your weight loss goals?