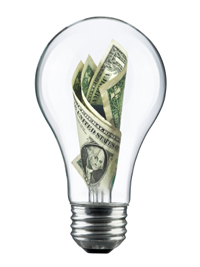 One of the downsides of moving to our new home—okay, the only downside of moving to our new home, has been that we now pay utilities.
At our old love shack, we only paid rent and everything was included. I never saw a cable, gas, electric, water or phone bill. And now, I see them all.
I was really worried about how much our utilities would cost. So I compared gas and electricity prices in my area, as well as shopped around for cable, internet, and phone services.
Now that we've been living here for a few months, our utilities have averaged about $160 a month. Not too shabby indeed! I think we had higher utility bills when we were living in our first apartment!
The Breakdown of Utilities
This is what we pay for a two-bedroom townhome per month:
Cable: $40
Internet: $25
Water: $32
Electric: $32
Gas: $15
House Phone: $20
TOTAL: $164
Where we save on utilities
When we lived in an apartment, we were paying about $110 a month for cable and internet. This time around, I said we were either going to do without cable or find a cheap alternative, such as Netflix or Amazon Prime. There was no way we were going to spend more than $1300 a year on cable and Internet.
We got lucky and signed up with DirectTV! $40 a month for cable is a win in my book—and this way I can still watch all my trashy TV.
We didn't bundle any of our services, because we found we could get better prices by not bundling. The biggest savings was definitely through cable. I couldn't find cable cheaper than $100 except for DirectTV.
Where we splurge on utilities
The one splurge I really needed to do was buy a house phone. I resisted a lot to the idea of getting a house phone. Why would we waste $20 a month, or $240 a year, when we could just use our cell phones? The problem is we get horrible service in our home. Calls get dropped all the time, or they cut out. I finally bit the bullet and bought a house phone when Eric was injured and I had no other way of reaching him during the day.
Overall, I am really happy with how much our utilities are. I was honestly scared about how much extra we were going to need to pay in addition to our rent, and budgeted for at least $200-$300 more.
Currently, our rent combined with utilities take up about 41% of our monthly income. However, we have a few income changes in the works that I hope will help lower this number within the next two to seven months.
How do our utility costs compare to yours?
image via