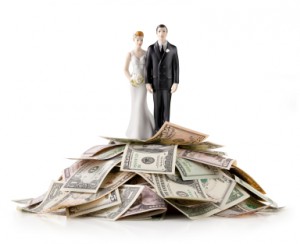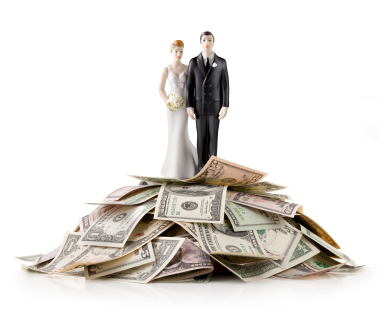 Two weeks ago, we received Eric's first paycheck with full-time hours on it. This check was more than twice as much as he was making while working part-time hours these past few months and the highest paycheck he's made since we've been married.
I cannot begin to express how much relief this brought us—or rather, how much relief it's brought me. For the past few months, I had slowly started to get bitter and I was taking it out on Eric. Granted, money has always been a sore subject for us. We oscillate between "Yay, we're budgeting together!" to "Oh em gee, we have no money, stop spending now! What do you mean you spent $3 at Starbucks again?!" And this happens pretty frequently…
It's not that I'm proud of my temperamental attitude, but really, there's only so much a girl can take, right? For the past two and half years of marriage, the financial burden has largely been placed on my shoulders. Eric not working for four months so he can go to the fire academy?  Financial burden on me. Eric injuring his back and not working for four weeks? Financial burden on me. Eric working part-time hours? I have to pick up the slack to make up for the lack of money. The straw that finally broke the camel's back was Eric going back to school to finish his degree.
While it was something we both wanted him to do, I knew that once again, I was going to have to figure out where the money would come from to pay for his schooling. It seemed that the more money I made, the more money Eric got to spend.
So when we finally got a full-time paycheck from Eric, it was like we were catching one huge break.  Finally, I have some extra wiggle room to play with. Finally, I can designate money into savings again—and keep it there! Finally—I can start saving up for vacations again, instead of covering the bills with the side hustle. Finally—I don't have to freak out over a $3 Starbucks purchase. Finally, finally, finally.
We are still 100% Newlyweds on a Budget (well,  okay maybe not newlyweds anymore…) …but I'm no longer freaking out over small purchases or saying things like "We can't spend any more money for 11 days!"
Now, I ain't saying I'm a gold digger, I just don't appreciate feeling poor all the time. We both work very, very hard. I know that Eric is still working on his career and one day (soon, we hope!) we will laugh at all the things we had to do to save money. But for now, these new full-time paychecks are helping us get through. It's like Mile 12 of a half-marathon…we're almost there.