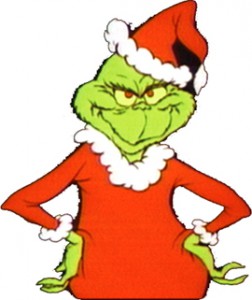 I am ALL about Christmas. Nobody would ever consider me to be a Grinch.
But frankly, I am sick of people telling me where to donate my money these holidays.
Every year at work, we do a food drive. On top of that, each department picks their own charity.
Frankly, I don't like this charity. For every story I hear about how much help a certain family needs, I hear another one of abuse and people taking advantage of donations when they're not really in need.
So today was the last day to donate. I had my boss ask me if I already donated, "Yup," I said. Even though, no, I haven't, and I have no intention to.
This morning, one co-worker said she was going to the grocery store to pick up gift cards, and asked if anyone needed one. Another co-worker asked me directly, "Erika, have you donated yet?"
"No," I said. "I prefer to pick my own charities to donate to."
The other co-worker responded "Well if everyone decided that, then they wouldn't have any money to give to the charity."
To which I said, "Well frankly, it's my decision what I do with my money."
Why all the office pressure? Are we not all adults here? Are we not old enough to decide how to spend our money?
Do we still feel the need to peer pressure each other into donating to charities you don't even support just because YOU think it's the right thing to do?
In fact, I did pick TWO families to donate to. But I chose them through Mama Laughlin's Pay it Forward series. Reading the stories of families in need made me feel more connected than simply donating to the office stash just because everybody else was doing it.
One of the office complaints was that not many people had donated to our charity. Well, helllloooo, don't you think that's a sign that people don't want to feel pressured to donate just because we HAVE to? Does that not defeat the whole purpose? It should be a CHOICE.
If I give at Christmas, it's because I want to. Not because you're telling me to.
Anyone else feel this way? Or am I really just a Grinch?
Join our newsletter
Get the latest content straight to your inbox.