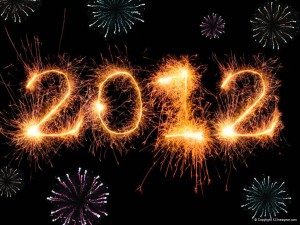 By the end of 2011, Eric had just started working again after being a fire academy student for four months. This past year, he worked part-time for the first eight months of the year, and finally landed a full-time EMT job with a local fire department.
This is how we did on our goals:
2. Contribute full match to 401K.Done
Not only did I contribute the full 3% match (my company contributes an additional 3%), I took my 3% raise this year and added that to my contributions as well, plus an additional 1%– so I am now contributing 10% of my pre-tax income to a 401K.
3. Open Roth IRAs.Done
We opened a Roth IRA in each of our names, contributed $100 and haven't touched them since. I can't decide whether we should maximize our 401K first, and then Roth, or what…suggestions?
I am so, SO grateful that I got my eye surgery. I LOVE not having to mess with contacts anymore and I haven't had any issues.
Moving out of the shack may not have been the best thing for our wallets, but it was by far the best thing for our relationship.
6. Pay off at least one student loan. Done Sept. 26, 2012
I have paid off TWO student loans and brought our debt under the $20,000 mark.
7. Make $2,500 in side hustle income. Done!
I can't believe how well I did with the side hustle this year. It allowed us to go on our honeymoon, and travel, as well as pay off debt. I have made more than $8,000 in extra income this year.
8. Go on a honeymoon Done!
Right around making significant progress on our debt, I think finally going on our honeymoon was the highlight of the year. Costa Rica was beautiful and we both hope to go back one day.
9. Save $10,000
We did not save $10,000. Not even close. We just had way too many other things going on. If we had stayed in the shack, it wouldn't have been an issue, but sometimes your sanity is more important than money.
10. Continue growing the blog
I am perfectly content with where my blog is right now. Throughout this year, I reevaluated what it meant to me, and decided it's nice if I make money, but that's not the end goal. If I do end up making money – it's tax deductible, so I can write it off when I efile! More than anything, I want it to remain a hobby.
11. Eat healthy, lose weight, start running again
Well, I ran two half-marathons this year, I lost weight, and was healthy maybe 80% of the time. However, the holidays have been kicking my butt and I seem to be back on the weight gain wagon…c'est la vie.
12. Be nicer to the husband
I definitely failed on this for the first half of the year. We were struggling financially a lot, and I would shoulder blame on Eric. I often said though, that if we had more money, we wouldn't have much to argue about. And my theory has proved to be true. Since September, when we received Eric's first four-figure paycheck of our entire marriage, we haven't argued much at all. Not about money, or really anything else. Not having to worry about money has relieved a lot of stress from my shoulders and I'm happy to report that we're both doing incredibly well–and yes, I have been way nicer.
Review:
11 out of 12 goals? That's an A in my book! I'm really happy with how far we've come, and can't wait to see what 2013 has in store for us.  Well….you know…if we make it to 2013…
How did you do on your goals this year?