I decided to get back into monthly recaps on our budget and goals to see if we're staying on track.
Here was our proposed 2013 budget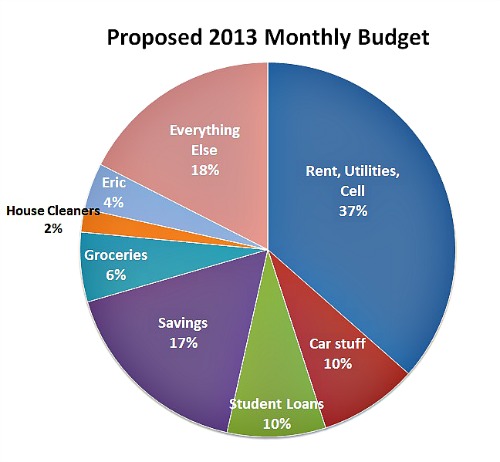 And this was our actual budget for January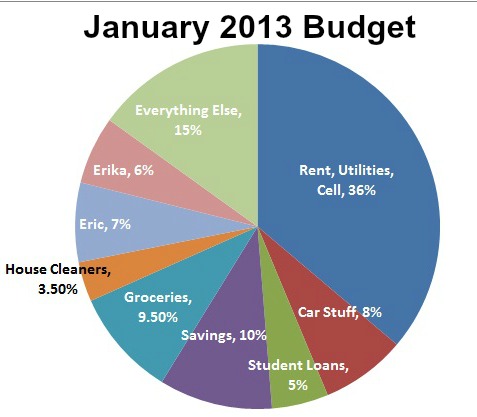 Due to our unexpected drop in income, savings and student loan repayment took a hit.
I also added a column for myself since I figure Eric gets a column to himself. However, the budget for the both of us and Everything Else was supposed to only account for 22% and instead it accounted for 28%.
Our groceries were also way over budget.
We're expecting a good February though so here's hoping we get right back on track!
Financial Goals
Overall Savings: We ended up contributing only 10% of our income to savings, rather than the 17% we had hoped for.
Where our Savings Stand:
20% of our $1,000 Emergency Savings Goal
12% of our $800 Christmas fund
30% of our $5,000 General Savings Fund
We have about five other specific savings accounts (School, Car Fund, Car Insurance, etc), so these numbers don't represent all our savings.
Student Loans: I am $8,043.10 away from reaching my goal for the year. I am only paying the minimum and saving the rest of my money for graduate school. Once I figure out if I'll have enough for school, I can then start paying loans aggressively.
Graduate School: I will find out by the end of February how much I need to pay upfront for graduate school. I know each class is $1500, and my company reimburses 75%, so I will need to pay $375 out of pocket for every class plus books and parking and pay for the first class upfront since I only get reimbursed after I've completed the class. 

Personal Goals
Lose 15 pounds: I have lost 7 pounds this month! I am so incredibly elated and plan to do a post soon about my progress.
Bike to work at least 10 times each month: Due to the freezing weather this past month and attending a boot camp right after work, I did not bike to work at all this month. I plan to start this goal asap.
Husband-wife date: Our date for the month was trying out a new burger place by our house. It was delicious! We also went out with friends on three separate occasions, which ate (haha, see what I did there?) into our entertainment budget.
Reading: I did mention that I am looking for 2013 must-read books. This month, I read:
Gone Girl by Gillian Fynn, I give it a 3.5 out of 5. It was slow to start but then it got pretty good with a bunch of unexpected twists and turns. TO be honest, at the end of the book I didn't even know what to think! As disturbing as the female primary character  was, I also kinda really loved her. I can't give away anything else.
Still Alice by Lisa Genova. 3 out of 5. It was a really sad story of a woman who is diagnosed with Alzheimer's.  It was a pretty easy read, but just sad overall.
Heart of the Matter by Emily Giffin. I loved Emily's first books, Something Borrowed and Something Blue. But most of the other ones, I've felt like the quality has just gone down hill…but I keep reading because I like to stay loyal, I guess? I'm still in the first 100 pages of this book but I've been having a hard time getting into it.
P.S. If you were a winner from my magazine giveaway, you should have received an email this weekend!