*since it's not coming across in the post based on the comments, I wanted to update to say that this post is 50% serious, 50% joke. make of that what you will : ) *
I am on the verge, like seriously thisclose, to enacting my veto power.
What is veto power? It means I can stop my husband from doing something because I am strongly, strongly against it.
Like a true leader who cares about their subjects (in this case, my husband), you want to reserve your veto power only for the most exceptional of cases.
For example, I have vetoed my husband from applying for any jobs outside of southern California.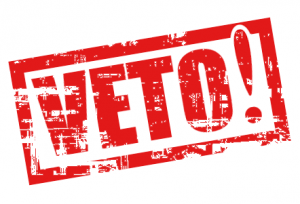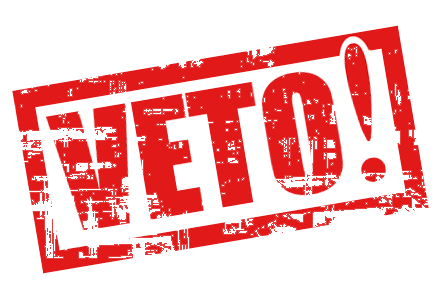 For a time, I was willing to relocate anywhere (remember that trip to Seattle? It was for a job interview), but now I make pretty good money at my current job, have excellent benefits, and they're paying for my graduate school so I can't exactly leave. Therefor, from this point on, I have vetoed my husband from applying outside of this area because it wouldn't be fair to me to have to leave my excellent job.
I am now considering vetoing my husband's exercise routine.
Yes, I do not want my husband to exercise.
Let me explain.
Last April, Eric ended up injuring his back while playing soccer and could not work for about 4-5 weeks. Because of his rank, Eric does not receive pay if he doesn't work. At the time, we had just moved and had spent almost all our savings on the deposit. I was so stressed out and was working double time on the side to cover his lack of paycheck.
Yesterday, Eric pulled a muscle while exercising at the gym. So he had to call in sick to work today.
When Eric works four 24-hour shifts, instead of the normal five 24-hour shifts per pay cycle, it results in a monthly loss of $600 due to the way the overtime works (120 hours vs. 96 hours).
$600 is a crucial amount of money to us.
I understand that Eric didn't get hurt on purpose, but every time he gets injured, I'm the one that figuratively and literally has to pay for it.
I've already covered for when he was in the fire academy full-time, when he injured his back in April, and now a pulled muscle. On top of that, I also work a full-time job and am freelancing on the side to pay off debt and save money. I think it's fair to say that I've done my part.
All I'm asking is that Eric contribute his fair share too, and in order to make sure that he doesn't miss anymore work, I want to veto any extracurricular exercise that could cause him to get injured.
Not only does an injury mean he doesn't get paid, but it could also hurt his prospects of getting hired at a full-time firefighter position.
Granted, I am very frustrated with the current situation. I completely understand his injuries have not been intentional, but I am getting a little tired of having to cover his slack. Every time he gets injured, I have to work harder. And since I manage the budget, it's easy for Eric to just say "oh well" while I'm left scrambling how to pay for bills to make up for his loss in income. I think it's time for some tough love.
Am I overreacting and taking it too far? Should I be more sympathetic?
What would you do?
I've been told that I need to work on being more compassionate, but I think it's a little hard to be compassionate when you're the one consistently getting gypped.