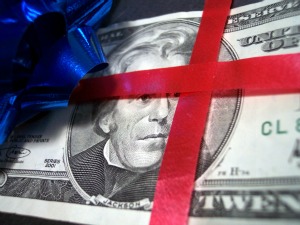 I think Eric and I will find ourselves in the minority when I make this next statement: We don't do gifts.
For birthdays, anniversaries, Valentine's Day or any other gift-giving holiday except Christmas, we don't give each other gifts.
And even on Christmas, I will send him a link to what I want and all he has to do is order it.
Call us unromantic, but this rather peculiar trend of ours began out of necessity. During the first two years of marriage, we could barely afford to go out to celebrate, let alone lavish each other with gifts.
On our one-year anniversary, I saved for several months to be able to splurge on a weekend trip to San Diego. For us, the gift to each other was being able to spend time together and go out.
This past year, we had a country-themed outing with friends for Eric's 30th birthday, and the bar tab was Eric's birthday present. For Valentine's Day, we splurged on a homemade meal of rack of lamb. For our anniversary, we went all out and probably went to the most expensive restaurant in Orange County–the bill came out to just under $300. Since we didn't get to celebrate our anniversary last year (you know, with Eric breaking his back and everything), we decided this meal counted for two years worth of marriage.
And again, this past week, for my birthday, I was stuck going to work all day and having grad school class at night. I'm counting our upcoming trip to New York as my birthday/anniversary gift.
I guess gifts never became a big thing for us, because if we really want something, we save for it and buy it. Maybe it's also because we share all our financial accounts, so it's not like we'll really be surprised with a gift since we'll most likely see the purchase through online banking before we receive the gift.
Perhaps we allow ourselves to splurge a little during these special moments, like Eric buying a pair of cowboy boots for his birthday, but for the most part, we are completely fine with contributing our funds to experiences and not things, hence celebrating special occasions with travels and dinners than physical presents.
I'm sure one day we'll get to the point where we can splurge on experiences and presents but until that time comes, we are completely fine with forgoing the tangible in favor of the memorable.
Do you do gifts in your marriage?