…and decide to get married.
In all marriages, there are differences between partners. In our case, we attribute a lot of our differences to being from different cultures. Eric is a white boy who wishes he were ethnic, and I am a Mexican, but my family calls me a "coconut."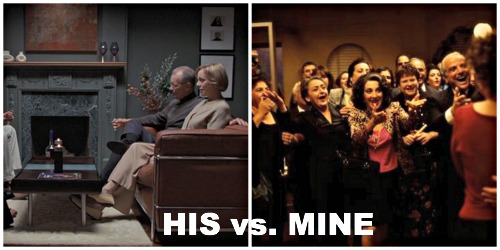 The Way We Communicate
I think to some extent, Eric and I definitely fit into the "My Big Fat Greek Wedding" stereotype. My family is loud and crazy and big…Eric's family is much smaller, quieter and probably more sane too.
In my family, we only know two levels of talking: loud and louder. When your family consists of 20 people, you learn to speak up to make sure you get heard. That often means that we'll sound like we're yelling at each other, but really we're just talking about the weather.
And since we're Mexican, all our gatherings involve alcohol, which only adds to the craziness and raises the decibel level from "jetplane" to "ear shattering."
Germs
I fall in line with most Mexican beliefs that germs make you stronger. When I was a kid, I played in the dirt. Heck, sometimes I ate it, and you know what? I'm still alive!
What is it with all the preoccupation white people have with germs? Germs make you stronger! And plus they're everywhere. If you were truly aware of just how germ infested your daily routine is, you would never bother going out.
Eric is so wishy washy about germs. When it comes to some things, he is very strict and gung ho, but when it comes to others, he is so laissez faire that it sickens me.
Food Expiration
In keeping with germs, another thing where Eric and I don't see eye to eye is the expiration date of food.
Let me give you a tip, if the milk has an expiration date, the milk itself is unaware that it is supposed to expire. Nobody tells the milk, hey milk you're set to expire today! Milk is not that smart! So how do you know if the milk is bad? Well, I don't know of anyone that has ever drank bad milk. And how do I know that no one has ever drank bad milk? Bc it smells like sh*t when it's gone bad, duh.
And that's how Mexicans determine if their food is bad. We smell it. If it smells good, we taste it. If it tastes good, we eat it. And life goes on and I've never gotten sick and my stomach is made of steel.
Rule Follower vs Rule Breaker
Eric loves to follow the rules, while Mexicans love to figure out how to bend the rules. And sometimes, we just make up our own rules.
For example, take driving. When Eric sees a yellow light, he will screech to a halt so that he never has to go through a yellow light. I see a yellow light and cue that as my signal to speed the f*ck up so I can make the light.
***
There are obviously a variety of other factors that contribute to the above mentioned differences, but it's fun to attribute it to our cultural differences. We make these jokes all the time, but we know it's all in good fun.
Are you in an interracial relationship?