It's been a bullet-post kind of life lately. 

Work has been crazy busy, so the last thing I feel like doing is sitting in front of the computer to blog when I get home…hence the silence.
You know you're married when you go to Costco on a Saturday afternoon and that counts as a "date."
After oscillating between paying down debt or saving for a house, I am leaning more toward paying off debt by the end of the year and being completely debt free!
October is a three paycheck month for us, so I'm super pumped!
Eric and I went to the Lululemon Warehouse Sale in L.A. two weeks ago and did some damage… I woke up at 5 am, left the house at 6:07 am, got there at 7:30 and got in line  and we still didn't get into the sale until 11:30 am. That's commitment folks.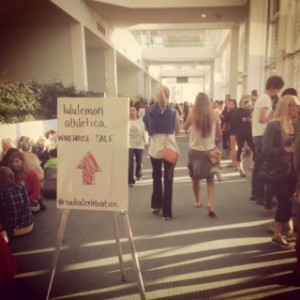 By 11 a.m., they were saying the line was eight hours long. Those L.A. freaks love their Lululemon…
We also had lunch at Langer's Deli, famous for their pastrami sandwich. Delish!
Afterward, I saw a man peeing at a bus stop in the middle of a busy intersection. I saw his pee-pee! Seriously??? Gotta love L.A.
Every time we go to L.A., it makes me feel like a grown-up. Can you believe I've lived an hour south of L.A. my whole life, and I never visited the Walk of Fame until I was 18? My parents have a phobia of traveling more than a ten-minute radius from their house.
I'm still working full-time. I'm still going to school full-time. I'm still freelancing part time. I am a busy girl!