Meet Mr. and Mrs. Sandberg.
He is 94. She is 92.
They've been married 65 years.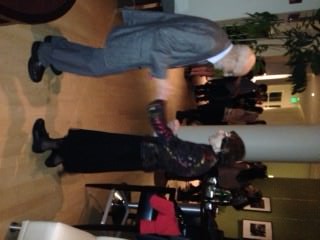 They met at a party in the 1930's.
Her friend had invited her with the intent of setting her up with another guy. But as Mr. Sandberg put it: "I had other plans."
He swept her off her feet, and they were married some odd months later.
I met the Sandbergs at my friend's 30th birthday last weekend.
I saw this old couple getting down on the dance floor, even though he walked with a cane, and she could barely talk above a whisper.
And I thought to myself: I want that.
Isn't that what we all want? When we say our vows, is that not the hope? That we will live to old age surrounded by family we've created, celebrating our granddaughter's 30th birthday, and dancing to Daft Punk's Get Lucky?
I mean, this couple knew how to get downnnnn. Video proof:
Of course, when you meet someone who's been married that long, you always ask: What's the secret?
Patience, he told me.
Well, shit, I'm screwed, I thought.
And a little bit of stubbornness, he added.
I've got that one down. 
May you all have a wonderful Valentine's Day with your loved one. And may we all be blessed with a lifetime of love.