Everyone knows that Eric and I are huge Whole Foods fans, ever since we started diligently trying to eat clean and healthier a few years ago. So when I saw on Twitter about a month ago, that Whole Foods was tweeting: "If you could wave a magic wand, what would you like to see us do for you?" I, of course, responded that I'd like them to come to my house and make dinner. Duh. Imagine my surprise when a few days later, I received an email from my local Whole Foods offering to have their chef come cook dinner for Eric and me! It was like the adult version of Aladdin, where I was Aladdin, the Genie was Whole Foods, and Twitter was my lamp–I guess that makes Eric Abu? Since he was just along for the ride 😉 We met Candace and Chef Nick at our local Whole Foods in Tustin on a Saturday afternoon to shop for our ingredients for that night's dinner, and was surprised when they presented us with a three-course menu prepared especially for us!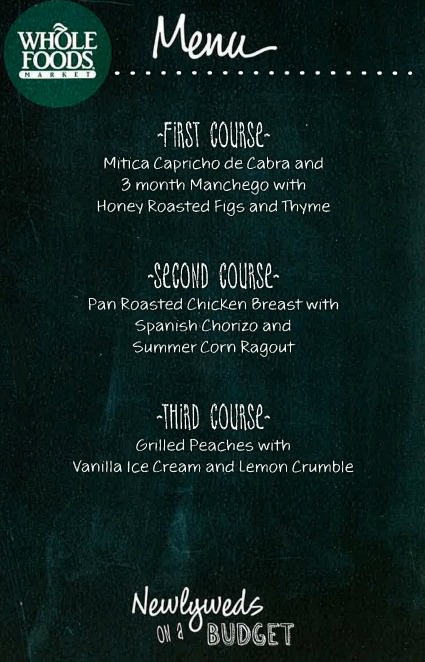 I found out later that Chef Nick built the menu specifically around that week's store specials, to show us how easy it is to actually have a great meal on a budget!
We learned a lot of great tips on saving money at Whole Foods, and I was honestly shocked at how you could feed a family of four on about $125-150 a week! Come back Wednesday for a post with everything I learned about saving money at Whole Foods, and a giveaway.
Candace and Nick even surprised us with a week's worth of groceries based on the Whole Deal's menu plan.

The bill for a whole week's worth of groceries to make these came out to $157. However, when you take out the pantry supplies, which you most likely have on hand anyway, like rice, mayo, vinegar, soy sauce, etc., the total comes out to about $125 for a family of four. Since Eric eats for two, and I always take leftovers for lunch, this essentially fed us for a whole week, except for breakfast. I was very impressed. Back when Eric and I were pretty broke, we ate crap, I couponed like crazy, and we stuck to a $350 food budget a month. It was hard. As soon as we had a little more wiggle room in our budget, the first thing we did is put money toward eating clean, whole foods.  Now our monthly food budget averages about $500.
Once we were finished shopping, we all headed back to our house, where the wine started flowing and Chef Nick started heating up the kitchen.
The food was amazing! I wish Chef Nick could come live with us and just cook for us all the time. (Sorry ladies, he's taken!)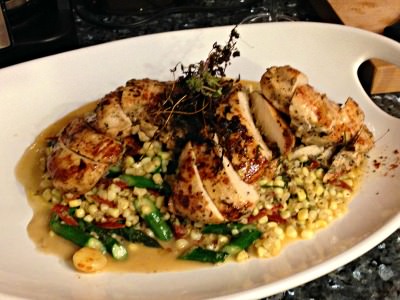 Did you count three wine bottles on the table?
In addition to the three-course meal, Whole Foods gave us two wine pairings for each course, for a total of six wines (since you get a 20% discount on six bottles!)
Well, six bottles for four people? Heck yeah, we're up for the challenge!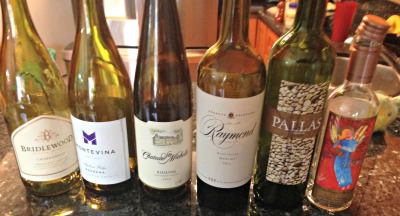 The total for the six bottles was $52.94, after the 20% discount, the total came out to $42.35 or about $7 a bottle for some really great-tasting wines.
The Pallas Tempranillo and the Electra Moscato (so sweet! a fabulous dessert wine!) were our faves.
Ultimately, we had a fabulous time.
Although I wasn't feeling so fabulous Sunday morning…oh well, the things you do for your blog, right?
I was not paid by Whole Foods for this post, but I did receive the meal and a week's worth of groceries for free. However, Eric and I have been regular Whole Foods shoppers for a few years and opinions are entirely our own.