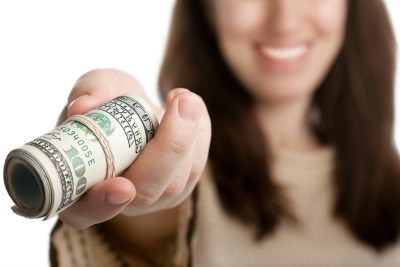 I'm sure at one point or another, you've decided to lend money to friends.
Whether it's $5 for lunch or a few hundred to help with a move or maybe even more if it's family.
I feel lucky that I've never been in the position where I need to ask to borrow serious money from friends–because I have access to the Bank of Mom & Dad.
Okay, just kidding.
While I have borrowed money from my parents maybe twice in the past several years, it was only because money from our online savings accounts takes a few days to transfer. And as soon as we received the money in our checking account, I would pay it back.
Some people, however, don't have access to financially secure parents or their parents simply aren't willing to let them borrow money.
I don't like being in a position of having to borrow money. There are several cases though where I won't have cash on hand, and will borrow $20 from a friend. I always make a mental note of it, maybe even put a reminder in my phone, and make it a point to pay them back the very next day.
I never want to be in the position where someone has to remind me "hey, remember those $20 you borrowed…?" because ugh, that puts the responsibility on the lender to nag you, and that's just tacky.
Plus, I think it's a huge display of character as to how quickly you pay a person back.
Enter the case where we become the nagging lenders. 
One of Eric's friends asked to borrow $200.
The friend said he needed the money to pay for a deposit on a new place that he's moving into but he can pay us back on his next payday in two weeks, he said.
Eric called me and wanted to make sure it was okay with me first because it is our money.
I wanted to say no.
Eric is still owed about $150 from co-workers from February for a fire academy purchase and he has not yet received that back. I should have gone with my gut and told Eric that he is only allowed to have loans out for $150 at a time.
However, I don't want to be that wife. The one always saying no.
So instead, I decided that I would make this a valuable lesson. And I said yes.
You see, Eric only occasionally talks to this friend, and I haven't really seen the guy since we were first married four years ago. But he was the one friend that helped us move when we first got married, so I figured if anything, I could count this money loan as payment for helping us move.
Because the first–and really only–rule you need to follow when you lend money to friends is that you should never loan more than you're willing to part with.
In other words, don't expect to ever get the money back.
If they pay you back, that's great. But if they don't, well you weren't expecting it anyway.
Well, the Friday when he was supposed to pay us back came and went and we didn't hear anything. Then another Friday passed. So Eric texted him and the friend said he would pay us back the following Friday.
So that Friday came and went and we didn't hear anything.
So Eric called him, and the friend never returned his call…
And all this time, I'm nudging Eric…"hey, when is he going to pay us back…"
Radio silence from this "friend."
When Eric would talk about it, he was really upset that his friend would do this to him. Eric has a real soft spot for his friends, and he would always go above and beyond to do anything he could to help them.
But while it was an expensive lesson, I don't think Eric will ever let friends borrow money again.
I am grateful that we are in a position where $200 isn't going to make or break us, but it's still $200.
My bottom line is never to mix friends and money.

Do you let friends borrow money? Do they pay you back?