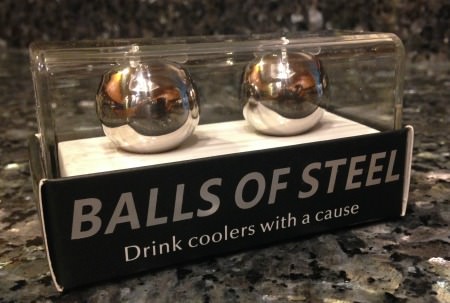 Today's review comes from my husband, Eric! This is the second time he's submitted a post 🙂 Let's all encourage him! 
OriginalBOS is a new company out of  Newport Beach, California which has created Balls of Steel to chill your drink with a cause. Put these balls into the freezer and after 90 minutes go into your beverage of choice. The greatest part about Balls of Steel is that a percentage of every purchase is donated to Testicular Cancer Research.
On their website, they suggest that these Balls are meant to be used as an easy conversation starter at a party. This should allow people to speak more openly about the topic of Testicular Cancer.
I reviewed the Classic Stainless Balls of Steel which run $24.99 and 15% of that is donated to Testicular Cancer Research. They also have the "AfterDark Edition" which runs at $26.99 with a 15% donation and "The Executive Set" at $499.00 with an 80% donation.
My Review on Balls of Steel
I bet you're probably wondering, what did I think about them?
Having been a bartender for 3 years and whiskey being my favorite adult sipping beverage, I couldn't pass on the opportunity to review this product. I did 2 tests on them.
The first was straight out of the package, I put them in the freezer for 90 minutes as instructed, and after 90 minutes I put the balls in a Whiskey Tumbler and poured my normal pour (3 ounces equivalent to a double shot) for an evening nightcap. I rolled the balls around a bit and let them sit for about 3 minutes then took my first sip. It was warm but they still looked really cool in my glass.
My second test was the same as the first except for the fact that I only poured a standard shot (1.5oz). This cooled the whiskey much more than the first round.
My thoughts: I really enjoyed them, I thought they were cool and could be a great conversation starter. On the drink itself, its different, it's something I would have to get used to.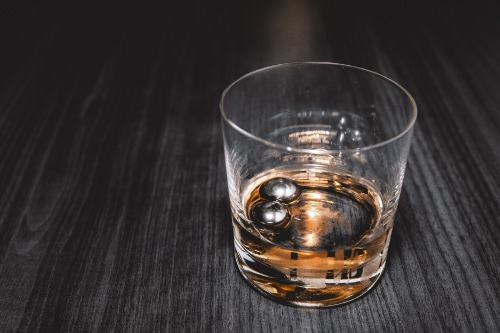 Historically, you order a drink straight because you want it room temperature and want to really get down to the core taste of the Whiskey. Conversely, you order a drink on the rocks because you do want a little bit of that water in your drink. The balls are like this new mysterious way of chilling your product and I think it will take me some time to get used to using them.
If given the option, I'd buy a pair of them. I also think they'd make great gifts for friends, fathers, and family members. I don't know if I'd use them on a regular basis but they look pretty cool in your glass and the most important thing, they support a great cause.
Balls of Steel Promo Code & Giveaway
All Newlyweds on a Budget readers will receive 10% off their Balls of Steel with promo code BUDGETBALLS. In addition, anyone who purchases products with the promo code will then be entered in a drawing to win two tees, two glasses, and a set of stainless steel Balls of Steel–perfect for a gift!
The discount code is good through July 25th, 2014. 
Enjoy your balls!  
We received Balls of Steel to review. All opinions are our own. We were not paid for this post.