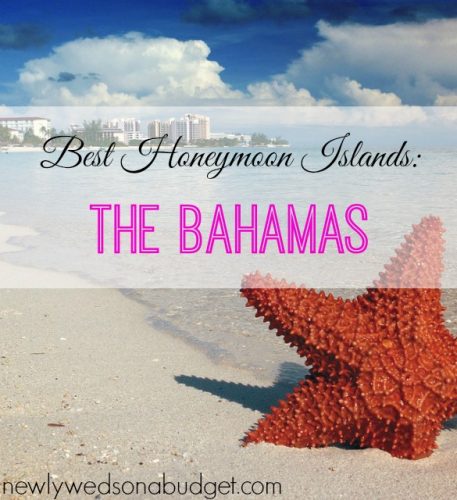 Planning a honeymoon, anniversary, or just a romantic getaway? Then, this new series is for you. Over the next few weeks, I'll be profiling some of the best honeymoon islands for you to consider for your romantic trip.
Paying for a wedding itself can cost a ton of money and cause a lot of financial stress so if you're want to go on a relaxing honeymoon, it's best to go with something affordable and fun.
Islands are often the best travel destinations for couples because you can relax on the beach (often for free) and find water activities for cheap. Plus, there are also local areas to explore where you can get more bang for your buck.
The Bahamas is a coral-based island just Southeast of Miami, Florida. Over 700 islands make up the Bahamas and some are uninhabited while others are packed with resorts and tourist attractions.
Here are a few reasons why you might want to honeymoon in the Bahamas.
You Can Cruise There
Since the Bahamas is so close to Florida, you can hop on a cruise ship to get there. My husband and I did this one back when we were dating and our ship took off from Fort Lauderdale. It was a blast and very affordable since most cruises are all-inclusive.
Even though this may not include alcohol, it still means all your food and drinks along with onboard activities are all included in your stay. Our ship had a casino, night club, mini-golfing area, a pool with a slide and more.
After you spend a day at sea enjoying the ship, you'll visit the Bahamas and get to explore the island. There are so many activities to choose from whether you want to check out the beaches and swim with dolphins, or visit local villages and see other attractions.
Water and Air Excursions
Even though you're on an island and there will be tons of fun water activities to do like snorkeling, boating, parasailing, etc., you can also enjoy activities by air as well. When you book your stay with participating locations of The Out Islands resort, you can receive a $150-$300 credit to 'island hop' with a private pilot.
Just looking at pictures of the island by air are breathtaking so I couldn't image the thrill of being able to fly between the different islands. It's a unique experience that is perfect for a once-in-a-lifetime trip like your honeymoon.
Equal Currency Conversion
When you travel to places like Europe, you often lose money since the U.S. dollar is worth less. But in the Bahamas, right now it's an equal conversion meaning 1 Bahamian dollar is equal in value to 1 U.S. dollar.
Knowing that how much money you take to the Bahamas will be how much you can actually spend will help you with budgeting and in most areas, you can use your U.S. money just like you would back at home without having to convert it.
Tourist Attractions
Of course, the attractions will most likely make your trip very memorable. In the Bahamas, there is so much to see and do. You can check out the Atlantis Paradise Island which is home to the Atlantis resort which has a casino, aquarium, water park, entertainment venues, restaurants and more.
If you visit via cruise ship, you'll probably get to check out Nassau which is one of the most popular cruise ports in the Caribbean. There are shops, a zoo, and Blue Lagoon Island where you can swim with dolphins.
Harbour Island is one of the oldest settlements in the Bahamas, it has pink sandy beaches, historic sights, and popular activities like diving, snorkeling, fishing and more. Andros Island has the third largest barrier reef in the world.
Grand Bahama is another popular place for cruise ships to dock and it's a great tourist hub for shopping, dining, and entertainment.
There is so much to do and see when visiting but the Bahamas but you also won't be able to resist the beautiful beaches and an opportunity to relax and enjoy the scenery.
Have you ever been to the Bahamas? What did you like most?